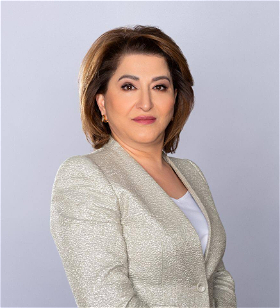 Tamam Jafarova was born in Baku on April 5, 1959.
After finishing Baku secondary School № 180 with a gold medal in 1976, T. Jafarova entered Lomonosov
Moscow State University Faculty of History in the frame of overseas education program, launched on
the initiative of our country's National leader Heydar Aliyev .
Upon graduating from MSU University in 1981 she started her teaching career at Azerbaijan Oil and
Chemistry Institute named after M. Azizbayov (Azerbaijan State University of Oil and Industry).
1987-1990- full-time postgraduate courses at Azerbaijan State University (now called Baku State
University) .
1991- Candidate of Sciences (PhD in history) title degree.
1996-2007- Associate Professor at the Political History Chair of Azerbaijan Oil and Industry University,
2007- February 2019- Associate Professor at the of Diplomacy and Modern Integration processes Chair
at the Faculty of International Relations and Economics of Baku State University.
Currently- Associate Professor at the Chair of International Relations, Azerbaijan University of Languages
Vice-Rector for Social Affairs and Public Relations.
Tamam Jafarova has always effectively combined her pedagogical and research work with active
participation in social and political life of the country. She has made a great contribution to the civic
society and women movement development.
2000-2002-Founder and the Chairperson of the Association of Women with University Education, co-
founder and member of the Women Coalition of Azerbaijan (Coalition 1325), member of the United
Nations Development Fund for Women(UNIFEM), member of the Women Coalition of the of the
Southern Caucasus.
2003- "Public movement for New Azerbaijan" election group co-founder in support for Heydar Aliyev's
presidential candidacy.
2000-2005- Vice-President of Azerbaijan National Non -Governmental Organizations (NGO) Forum.
2006-2016-Azerbaijan Republic Central Election Commission member.
Since 2005-Co-founder and one of three co-chairpersons of the National Confederation of Azerbaijani
Women. The honorary president of the organization is Mehriban Aliyeva, First lady of the country.
Moreover, Tamam Jafarova is a widely acclaimed expert on gender and conflictology issues, numerous
local and international conferences participant.
2004-US Consensus Building Institute six-month course graduate.
In 2005 she submitted her candidacy for parliamentary election in № 50 Gobustan-Hizi-Guba electoral
district.
He is a deputy of the 6th convocation of the Milli Majlis from Shamakhi.
Contact:
Tel: (+99412) 441-58-61