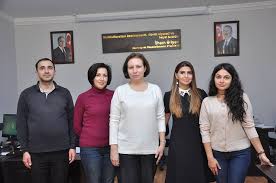 Under the general guidance of the Rector of Azerbaijan University of Languages, Academician K.M.Abdullayev, the Multiculturalism Scientific Research Laboratory was created in 2017, along with a number of new centres and scientific research laboratories, which has turned into one of the main centres conducting researches in multiculturalism in our country.
The Multiculturalism Scientific Research Laboratory has been envisaged for innovations, researches and joining the education process in the field of multiculturalism. This is another step made in the formation of the multicultural and tolerant traditions in education system of Azerbaijan. The study of the Azerbaijani model of multiculturalism in comparison with the world models constitutes the priority area of its research.
The Multiculturalism Scientific Research Laboratory is mainly aimed to study and advocate the ideology of Azerbaijani multiculturalism, the synthesis of the Azerbaijani people's national-spiritual values with universal values, the state policy of multiculturalism pursued in the continuous development of science, education and culture, as well as to support the development of multiculturalism and tolerance.
The Multiculturalism Scientific Research Laboratory will be one of the organizers of local and international conferences related to the world history, culture, religion, politics and so on. Here lectures of the leading researchers in multiculturalism will be held for students.
The Main Obligations of the Laboratory:
to support the formation of the Azerbaijani youth studying at the University as comprehensively developed personalities with modern scientific knowledge and their upbringing in the spirit of multiculturalism and tolerance;
to provide the close familiarization of the foreign students at the University with the Azerbaijani people's ancient history and rich culture, national-spiritual values, the realities of modern Azerbaijan;
to work to consolidate the ideology of multiculturalism, maintain national-spiritual, universal values and pass them to the future generations, develop Azerbaijani multiculturalism and our people's traditions of tolerance, increase the attentive attitude towards Azerbaijani culture and the interest in the national and universal values among the youth;
to establish mutual business relations with the institutions and organizations, scientific and cultural centres related to multiculturalism in the country and abroad, as well as structural divisions working in the fields of science, education and culture within the University and strengthen creative cooperation with them.
The Multiculturalism Scientific Research Laboratory plans to publish the scientific, scientific-publicistic, scientific-methodological and educational materials, organize mass events on multiculturalism and tolerance for local and foreign students, translate into Azerbaijani the scientific works of foreign scholars and thinkers, as well as the works on Azerbaijani multiculturalism into foreign languages, arrange training for the specialists teaching the course on multiculturalism within the country and abroad.
The obligations of the laboratory are very important and its successful activities are necessary for Azerbaijan's academic and cultural life.
The Head of the Multiculturalism Scientific Research Laboratory, Doctor of Philosophy in Politics, Associate Professor
Kunina İrina Aleksandrovna
Tel: (+99412) 440-02-89
E-mail: [email protected]