Event, dedicated to 31 March - Azerbaijanis' Genocide Day, was held at AUL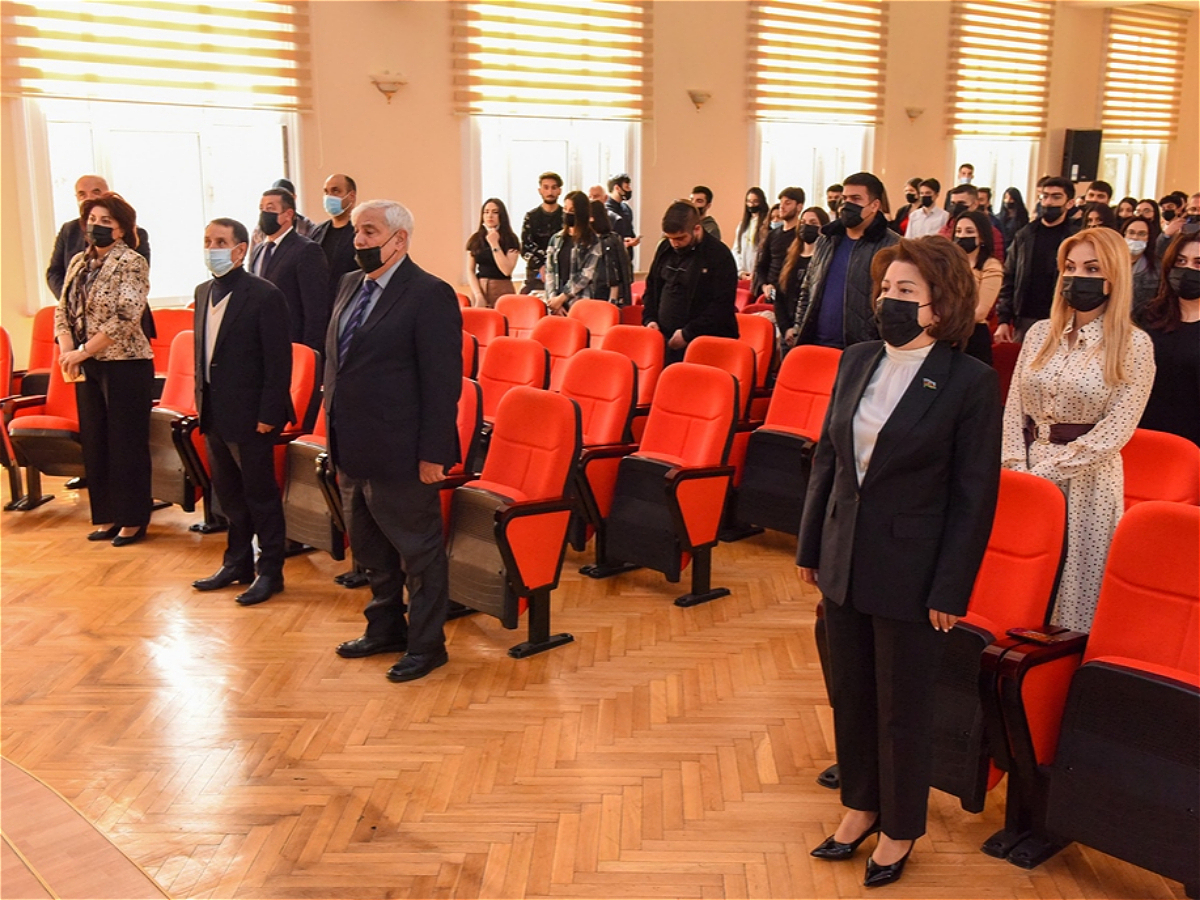 Event, dedicated to March 31 - the Day of Genocide of Azerbaijanis, was held at the Azerbaijan University of Languages ​​on March 31.
First, the memory of the martyrs was commemorated with a minute of silence.
Rector of AUL, academician Kamal Abdulla spoke about the genocide committed by Armenian armed groups against Azerbaijanis. It was by the order of national leader Heydar Aliyev dated March 26, 1998 that March 31 was marked as the Day of Genocide of Azerbaijanis:
"With the courageous and decisive political steps of President Ilham Aliyev, the 44-day war ended in victory. Truth and justice have triumphed. At the expense of the blood and lives of our martyrs, our lands were liberated from occupation. All the people united and marched towards the goal like a fist. By committing genocide against the Azerbaijani people, the Armenian fascists have once again shown the whole world the result of their atrocities.
Doctor of Historical Sciences, Professor Solmaz Rustamova-Tohidi shared her views on "March 31, the Day of Genocide of Azerbaijanis" and noted that these bloody events have great historical significance and significance:
In 1918, another dream of the Azerbaijani national press for decades - to publish a newspaper named after the country and the people - finally came true, and on September 15, 1918, the newspaper "Azerbaijan" was published in Ganja. . After the liberation of Baku from foreign forces on September 15, 1918, the "Azerbaijan" newspaper, which moved to Baku, was published daily in Azerbaijani and Russian languages. tried to unite closely around. The idea of ​​defending the independence of Azerbaijan expressed the general political line of the newspaper.

However, before these significant events of 1918, there were events that became a general tragedy for the entire Azerbaijani people, and even called into question its existence. The March 1918 massacres in Baku and Shamakhi were the beginning of this bloody chain. For several days, the peaceful Azerbaijani population of these cities and surrounding villages was plundered and massacred by ruthless and arbitrary Bolshevik-Dashnak military forces, and unprecedented acts of oppression, capture and robbery were carried out, and towns and villages were set on fire and destroyed. Then these massacres covered almost all the accidents in Azerbaijan. "
Associate Professor Namig Karimov, a teacher at the Department of Caucasus Studies, spoke about the atrocities committed by Armenian bandits during the genocide, their inhumane actions on human corpses, and historical facts.
He noted that thousands of Azerbaijani civilians were killed only because of their nationality: "Today's study of the March events shows , that the premeditated and planned massacres of the peaceful, mostly unarmed Muslim population of Baku, as well as Shamakhi and other areas by regular troops were impossible to prevent.''
The event ended with the demonstration of an art composition prepared by the students and a video about the March 31 events.