Pakistan Senate members' visit to AUL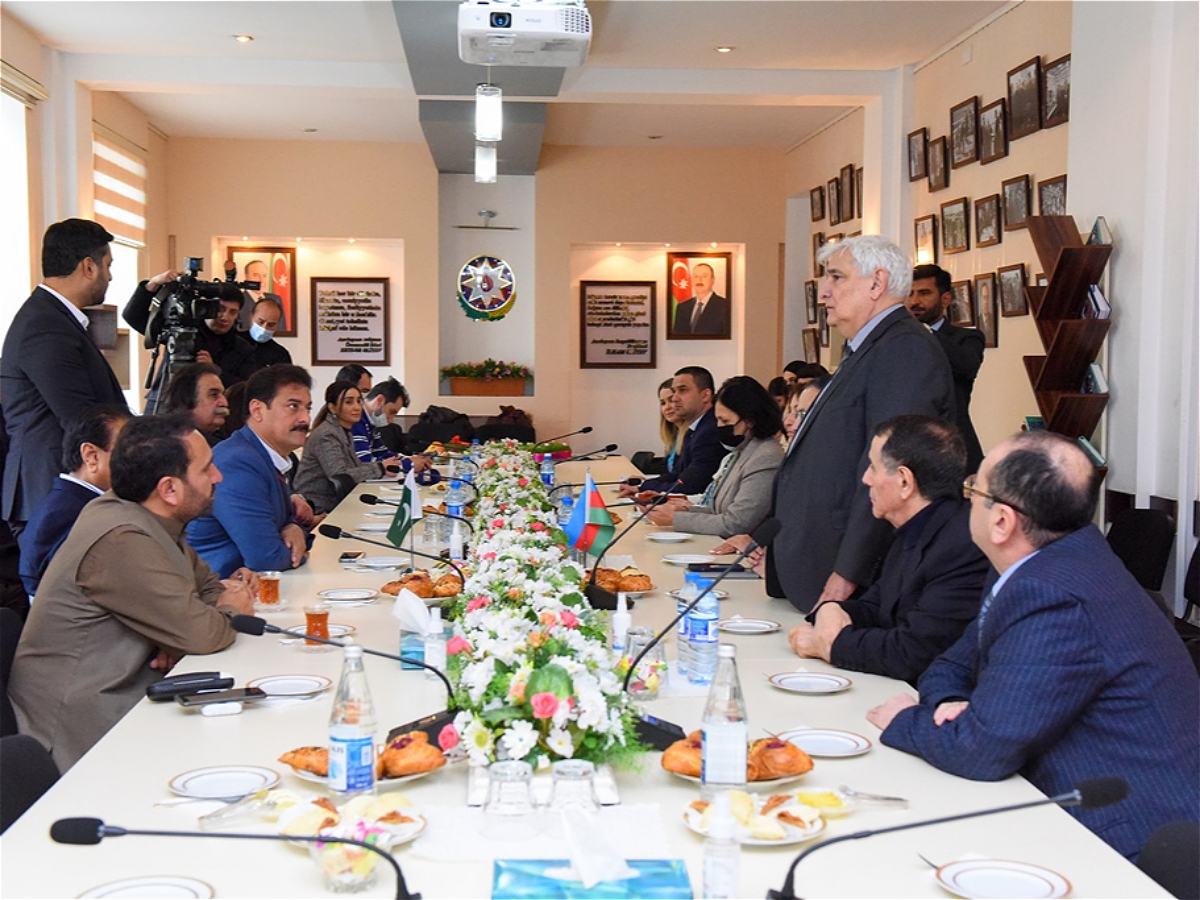 The Azerbaijani University of Languages (AUL) hosted a meeting with members of the Senate of Pakistan on March 18.
AUL Rector, Academician Kamal Abdulla welcomed the guests and said he was pleased to see them at the university. The rector congratulated the guests on Pakistan's bank holidays and informed them of a state-level event held in Baku on March 17 on the occasion of the holiday.
The rector noted that Azerbaijan and Pakistan had historically warm relations. Great leader Heydar Aliyev also attached special importance to relations with Pakistan. Today, this policy is successfully pursued by President Ilham Aliyev.
Talking about importance of mutual scientific ties Kamal Abdulla said: "Scientific centres operating in both countries will be a strong link between Azerbaijani and Pakistani youth. With your help we will receive Pakistani youth here and Azerbaijani youth in turn will be received in Pakistan". It was noted that scientific and cultural exchange between the two countries will continue at the highest level. Referring to Pakistan's support for the victorious 44-day war, the rector said we will never forget this historic step.
Member of the Senate of Pakistan Sadagat Ali Abbasi said they were interested in cooperation with the Azerbaijan University of Languages. Scientific, cultural and economic ties between Azerbaijan and Pakistan have been developing rapidly in recent years: "The purpose of our visit is to show our love and friendship for Azerbaijan. Our aim is to share our experience with Azerbaijan, as well as to use Azerbaijan's experience".
The guest suggested strengthening Pakistan- Azerbaijan relations: "I suggest creating a platform where faculty of the two countries can come together, exchange views and discuss new development prospects. This can be considered one of the important steps in the development of our relations, as well as in achieving scientific goals".
At the end of the event, the guests were briefed on the activities of the Pakistan AULCultural Centre and exchanged views with Urdu studyind students.