AUL Rector Kamal Abdulla meets with the Pakistani Ambassador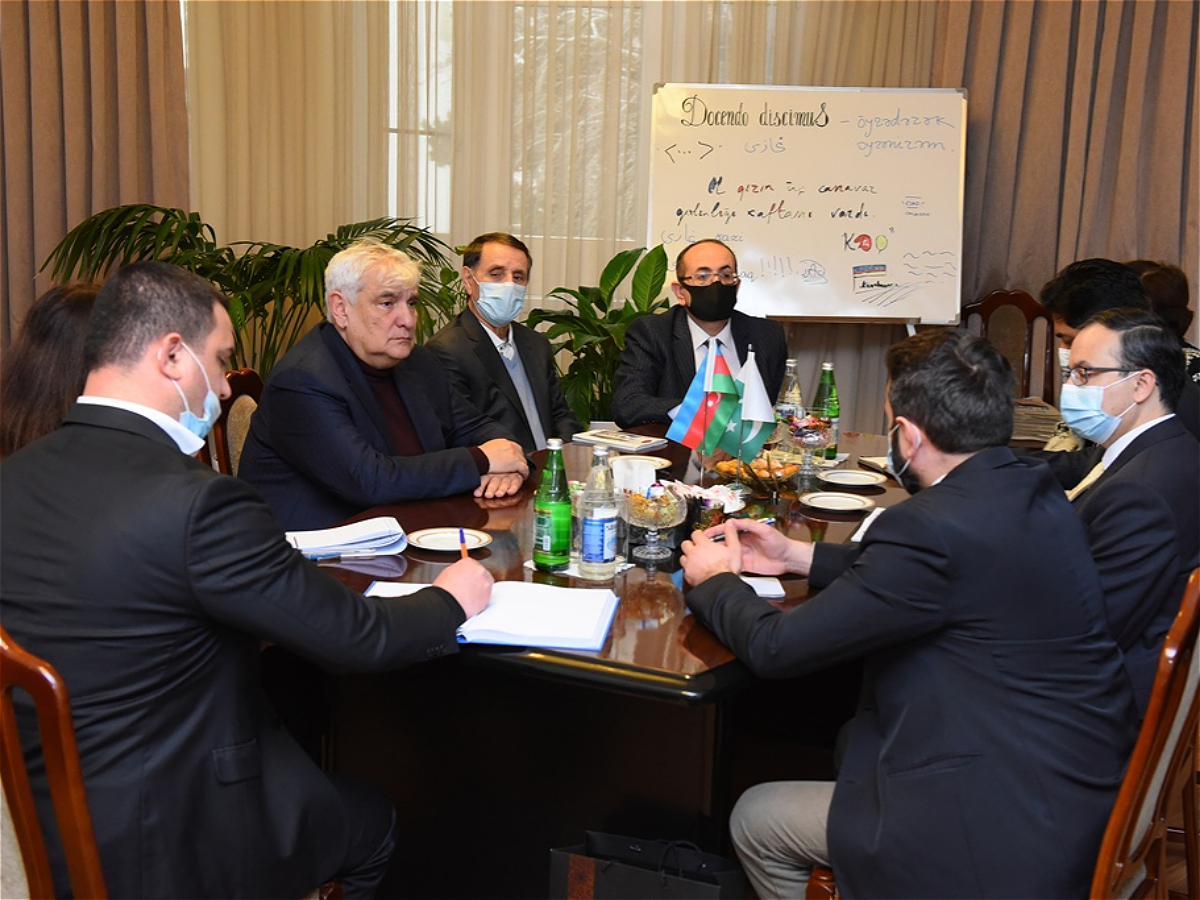 Azerbaijan University of Languages ​​(AUL) Rector, Academician Kamal Abdulla met with the Ambassador Extraordinary and Plenipotentiary of Pakistan to Azerbaijan Bilal Hayee. The rector welcomed the ambassador and emphasized great love and respect for Pakistan in Azerbaijan: "Pakistan's moral support to Azerbaijan in the Great Patriotic War is very valuable for us and I thank you on behalf of the staff of our university. I hope that with your arrival, our relations with Pakistani universities will be strengthened. We have interesting projects in language, literature and other areas. I think that if we cooperate with higher education institutions in Pakistan, it will be very interesting and useful for both sides. "
The rector spoke about the successful work of AUL language and culture centers of more than 20 countries. Kamal Abdullah said that the university plans to open a Pakistani language and culture center at the university: "The opening of the center will open new prospects for us in many areas. Scientific cooperation, student exchange and other important areas are the main prospects. I think this center will be the first cultural place of Pakistan in Azerbaijan."
He informed Bilal Haye about the "Ambassador's Hour" project at AUL and invited the diplomat to meet with students after the resumption of traditional classes.
Bilal Hayee thanked the rector of AUL for the warm welcome and said he was looking forward to speaking at the "Ambassador's Hour" project: "It is a great pleasure for me to be at the Azerbaijan University of Languages. Novruz holiday is coming and I take this opportunity to congratulate you and your team. We have great respect for teachers. We perceive them as fathers, for they show us the right way. A Pakistani teacher phones me to say we should open a Pakistani cultural center in Azerbaijan. And now you are planning this. One teacher suggested, and another teacher in your person helps us. It makes me incredibly happy. Political relations between Azerbaijan and Pakistan are at a very high level. I am sure teaching Urdu at Azerbaijan University of Languages will bring our nations even closer. I myself will be the first Urdu teacher in the centre."
During the meeting AUL Vice-Rector for Scientific Affairs, Professor Novruz Mammadov and Vice-Rector for International Relations, Professor Jala Garibova shared their views on inter-university cooperation in various fields.
Then the Ambassador was shown the language and cultural centers operating at AUL.