Academician Kamal Abdulla meets with the Romanian Ambassador to Azerbaijan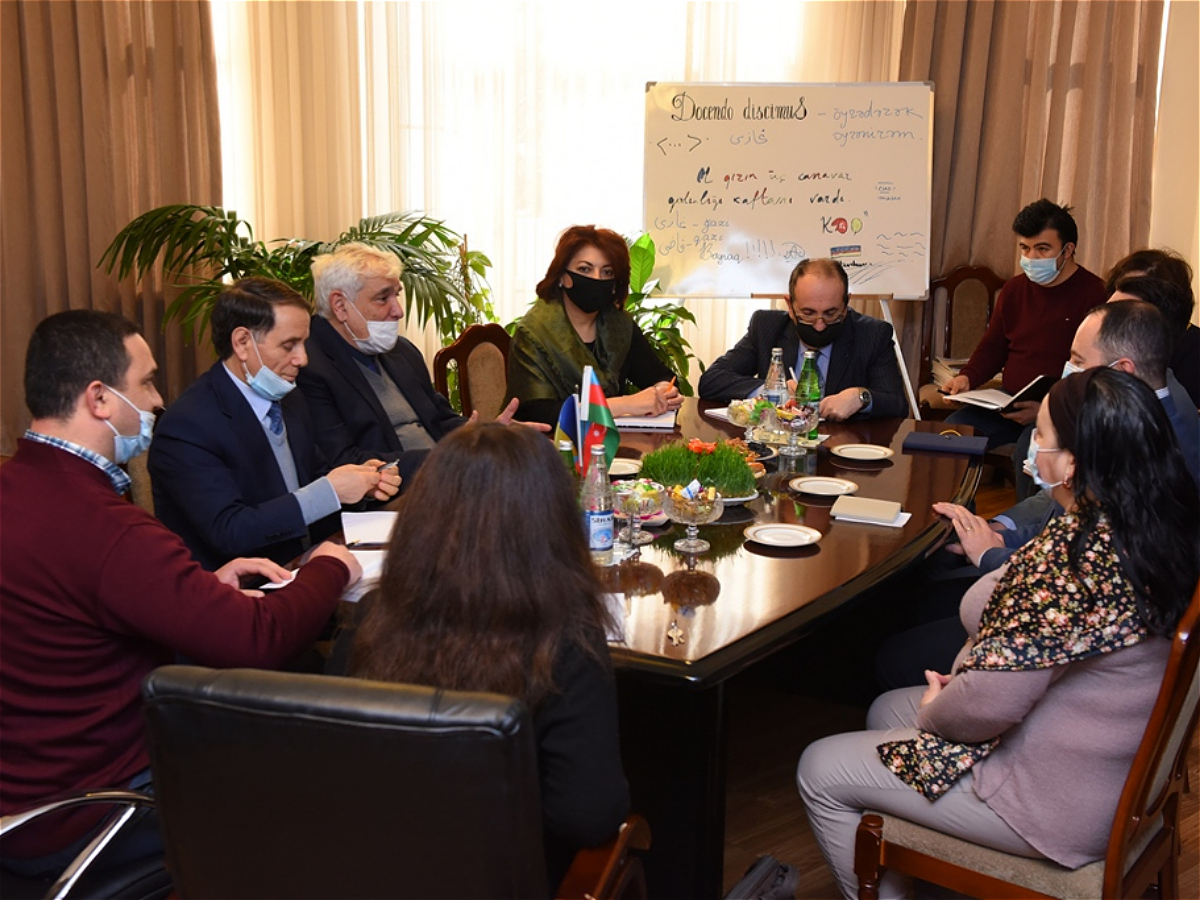 Rector of Azerbaijan University of Languages ​​(AUL), Academician Kamal Abdulla met with the Ambassador Extraordinary and Plenipotentiary of Romania to Azerbaijan Dan Iancu. After welcoming the ambassador at AUL, the rector referred to the relations in the field of science and education, touched upon the successful work signed by the ambassador during his diplomatic activity: "You are already completing your diplomatic mission in Azerbaijan. I am very glad to know you and to cooperate with you. Our university staff will always warmly remember you. Wherever you are, our prayers will be with you. Please pass on our good wishes to our Romanian friends. I believe that whichever country you continue your activity in, you will talk about Azerbaijan and will not forget us."
Kamal Abdulla highly appreciated the Romanian colleagues' support during the 44- day war:- "Our university was very active on the information front during the war. More than 5,000 letters in 20 languages were sent to organizations in various countries through the established information centre. We received letters of support from our colleagues in Romania. I want to thank all countries, especially Romania, who support our struggle for human rights.
Ambassador Dan Iancu expressed his gratitude for the warm welcome. The diplomat noted that he had been Ambassador Extraordinary and Plenipotentiary of Romania to Azerbaijan for four years already and left our country with warm memories:
"Certainly, I will not forget these four years in Azerbaijan. I saw beautiful historical places, met hospitable people. I thank the Azerbaijani government for closely supporting our work. During these years, I have made many friends at Azerbaijan University of Languages. As rector of the university, I would like to thank you for being always close and friendly. These four years are dear to me also because I started my first activity as an ambassador in Azerbaijan. Your country is developing day by day and people's welfare is increasing. Wherever I work, I will never forget this beautiful country.
Then AUL vice-rectors Prof. Novruz Mammadov, Prof. Sevinj Zeynalova and Prof. Jale Garibova discussed exchange of students with Romanian universities, continuation of teaching Romanian language, future prospects of teaching Latin language, expressed their views on mutual cooperation in the areas and wished the Ambassador success in his future activities.