SHARE WITH LOVE: Wandering insights about Romania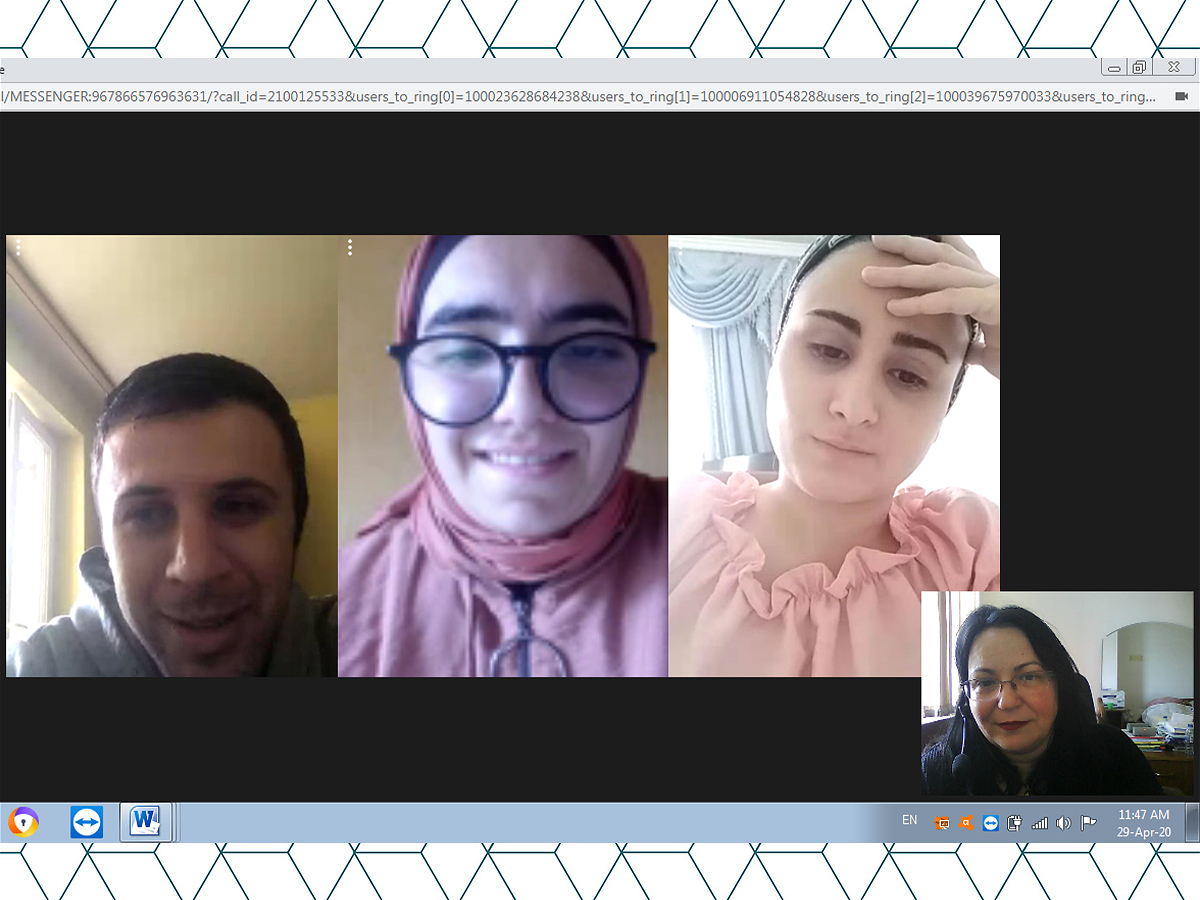 Online live presentation: Baku, AZ – Baia Mare, RO
Guest: Azer Hegshunas, Support volunteer, Yellow Shirts Association
https://www.volleyballscience.com/
Topics to be discussed:
Living in Romania as a volunteer expat
Program insights
Personal landmarks in Romania
Here are our guest's thoughts and insights about his experience in Romania, during his almost 9 months (10.09.2019 – 15.05.2020) volunteer work.
My name is Azer Hegshunas and I am from Azerbaijan. I am 27 years old. I am sharing my volunteering experience in Romania. As I said before, Romania is one of the greatest countries that should be discovered and introduced to people who do not have much information or wrong information. Today was a day when I shared a small part of my experience with the Romanian language teacher Dr. Iosefina Blazsani Batto and her students Gulshan Atakishiyeva, Shahane Mirzeyeva, Seda Memmedli, Zarifa Aliyeva, Aysel Talibova, Alshiraz Alshirazov, Idris Mirzeyev, Fakhrim Seferov of Azerbaijan University of Languages. Due to having poor internet connections, unfortunately, some of them could not join the live conversation, so we did the online meeting with Gulshan Atakishiyeva and Zarifa Aliyeva. Currently, they have been studying in a 3rd grade of the International Relations and Regional Studies faculty, Regional Studies in Central and Eastern Europe department.
After introducing myself, I talked about EVS program. "Volleyball is not rocket science. We are!", shortly named "Volleyball Science", is an initiative of Yellow Shirts Association to promote sports, volleyball in particular, at the grassroots level. The initiative is supported by local and international partners. The program has 2 components: sport (Erasmus+), where the main aim is to create supportive materials that will assist individuals and bodies interested in volleyball and therefore the team hopes to increase the knowledge and promotion of volleyball mainly in Romania, Spain, Italy and N. Macedonia, as well as in other non-partner countries, and volunteering (European Solidarity Corps), where the main aim is to offer the hosting communities different sport events and activities they can join in order to promote the social inclusion of their members, to encourage young people to practice sports and to support the local sport clubs; the project also want to offer to the involved international volunteers the context to develop certain competences and gain experience that will further support and help them with the integration on the labor market. The outcomes of the project in numbers are 1 volleyball manual,1 volleyball video channel, 1 marketing strategies for sport clubs, 4 national partners, 7 international partners, 10 languages used, 6 volunteers, 58 volunteering months, 150 local activities, 2.500 direct beneficiaries, 5.000 indirect beneficiaries, 10.000 YouTube video views. The expected impact of the project regards increased knowledge of the European Solidarity Corps, increased knowledge of the Murcia region/Baia Mare region local communities and their reality, raised awareness on the impact of volunteering in local communities through grassroots sports, personal and professional development by improving certain key competences, including organizational competences, working in foreign languages, computer and IT usage, cultural expression, leadership and team working through practical methods and instruments, increased capacity of understanding the importance of non-formal activities that apply as well in sports, awareness of the importance of peer to peer learning through testing, giving and receiving feedbacks, importance of collaboration and communication in the daily life and in sports, tolerance, adaptability, openness, cooperation, understanding diversity, flexibility, working in a team and other soft skills which will be stimulated intensive during the work for this project, improved chances of getting a job at the end of the volunteering experience.
I shared my experience regarding the selection for this program. Volunteers' profile had the following characteristics: aged 18-30 years old, as stipulated by the program, has not participated in a long-term EVS before, registered in the ESC portal, not enrolled in an Erasmus student exchange program or any other program funded by the EU by the time of the volunteering period (avoiding double-financing), availability for the entire period of the volunteering activity. The volunteer worker should have also had interest in sports, volleyball in particular, and communication and social media, motivation to work with sport related activities and to learn more about volleyball, interest to develop or having a basic background in social media, communication, graphic design or similar, long term thinker and planner, precise and organized way of working (or desire to become one), capacity or desire to develop the work in a team, but also individually, open minded, communicative and pro-active attitude, ability and desire to establish and maintain a positive and professional relationship with the co-workers, athletes, club's representatives and third parties, sense of initiative, eager to work with different age categories in an international environment. I also explained to them that being accepted in this EU program was not an easy task for me. Due to the documentation needed and the specificity of the requirements, not all the countries accept NON–EU citizens. However, Romania did. Special thanks for acceptance.
Of much interest to the students was my talk about the immersion into a new country, the adaptation to the region, people, project tasks, activities, cities that I visited, and all other positive and, sometimes, negative sides of Romania.
Currently, I have been living in Baia Mare, a city located in Maramures county. I am so happy that I live in this city and county. During my 7-8 months I did not feel like a stranger, a foreigner, because of kindness, the hospitality of people who did not allow me to feel like that. Thus, I did not feel how time passed so quickly.
Moreover, I talked about our organization "Yellow Shirts Association", its president-coordinator Andreea Ioana and the project "Volleyball is not rocket science. We are! ". The project is about involving into sports, contributing to sports as much as we can. Most significantly, in this city people have the enthusiasm for sports. It motivates you to do your task with a lot of joy. Besides being a former footballer, I love sport and enjoy contributing to sport.
My volunteer work in Romania is not only doing a task and finishing your day. It is also about joining events organized by other organizations, making friends out of local people, getting to know Romanian and other nationalities very well. Regardless being not so large city Baia Mare, you could see people from various countries and make friends. For example, when I took part in events, I met people from USA, Australia, Hungary, Norway, Austria, Spain etc. volunteering also to different fields such as sport, education etc.
During my stay in Romania, with my team, I had the chance to visit other parts of the country and other cities and towns. I can mention some of them like Bucharest, Miercurea Ciuc, Sinaia, Brasov, Oradea, Baile Tusnad, Sfantu Gheorghe, Rasnov. I also got acquainted with some rural settlements that still keep the traditions and the country side life alive, such as Shurdeshti, Plopish, Balan etc. To the students I expressed my preference for 2 beautiful towns, located in a natural environment deep into the mountains: Sinaia and Baile Tusnad.
Sinaia is the place where you cannot see a traffic light. This is the city located in a mountainous area. When I was there, I thought someone created this city as in a game and placed it in Romania. It is like a small jewelry because it has everything: river, adorable historical places, shops, restaurants, gorgeous sceneries etc. Despite the fact that prices are a little bit high comparing other cities, my team enjoyed the time we spent there a lot. In Sinaia, we had a Mid-Term training and all fees for our project activities were covered by the Romanian National Agency. Thanks to the organization that they gave such great chance to visit the city and discover its places very well.
Baile Tusnad is a city located in Harghita Region, a location where a big Hungarian community lives. Although being a tiny settlement, with only 2000-3000 people, it has the characteristic of a fancy resort style town.
Moreover, students wondered if there were any negative aspects for me in Romania. I did not see other negative aspects of the country during my experience but the low speed of the trains and the heating system. Sometimes, it got really boring to travel short distance and spending so much time.
When it comes to praise the special positive sides, I must mention the internet speed on a mobile number and at home and the low prices for a large packet containing internet and minutes for calling inside EU zone.
In the end, after I was speaking more than 1 hour, I realized that I can talk more and more about the things that I did and that impressed me in Romania, but I will save the other stories for a next meeting. I only want to mention more that Romania gave me over limited positive energy and that is why I like sharing with love this positive experience of my life as volunteer word by word. That is why I think that a title as "Share with Love" is extremely suitable to raise awareness about Romania and my work as volunteer in this country. I am looking forward to sharing more about it in a larger event when I am in Azerbaijan. Many thanks to Mrs. Iosefina Blazsani-Batto and the Romanian language students from Azerbaijan University of Language for being interested to be part of my experience.
Event organizer: Romanian Language and Culture Center, ADU, Baku,
director dr. Iosefina Blazsani-Batto