President of Hungary awarded Kamal Abdullayev with highest Order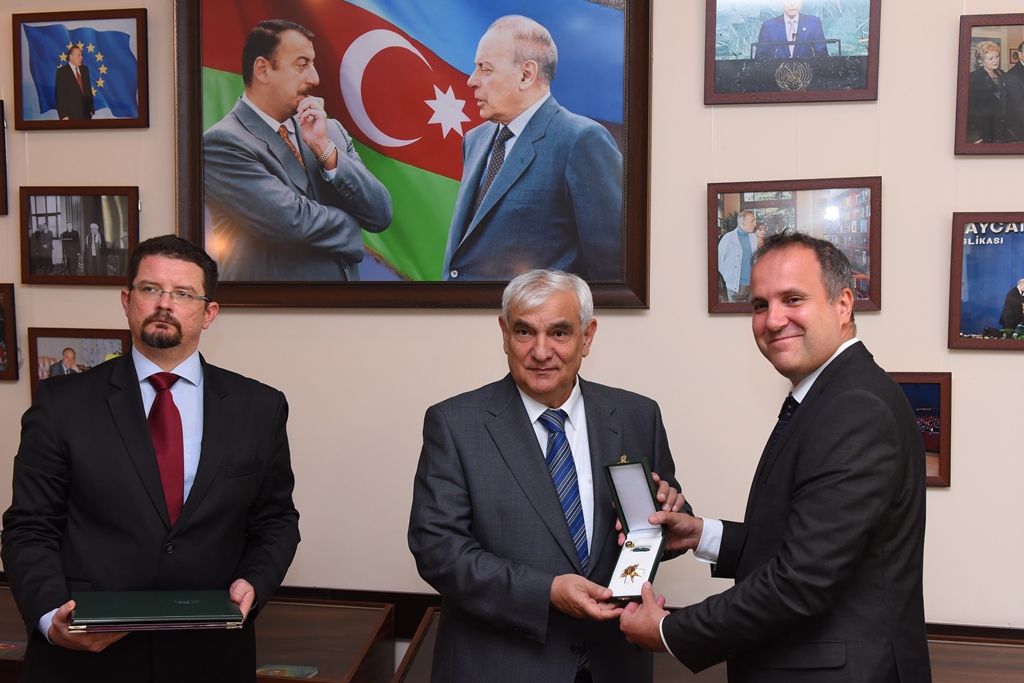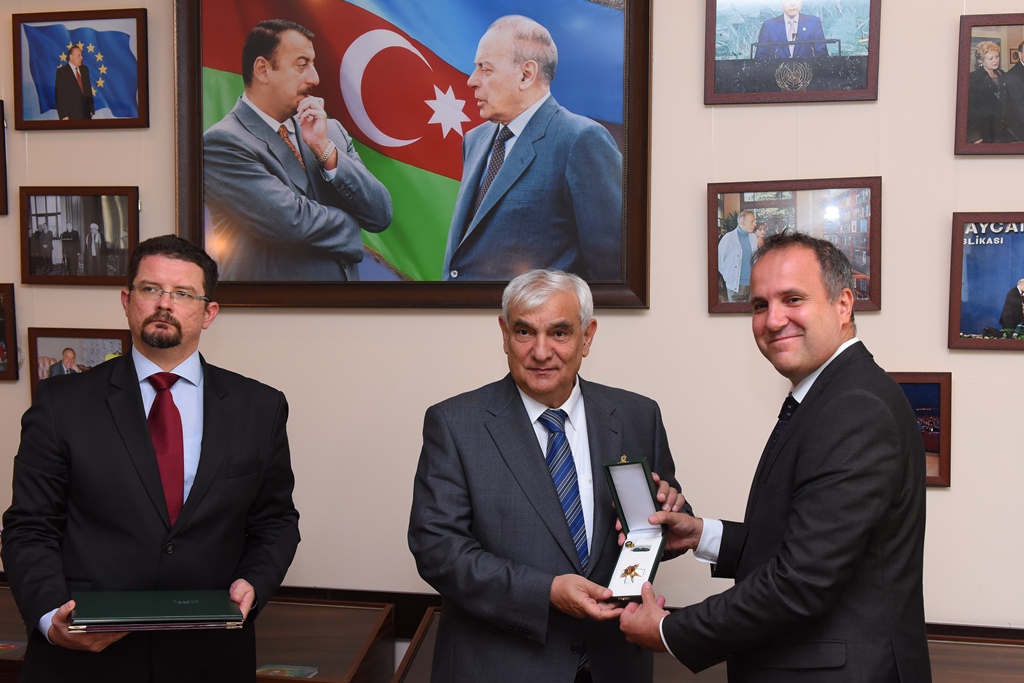 Azerbaijan Language University (AUL) Rector Kamal Abdullayev, Academician an People`s Writer, was awarded with Officer's Cross for the important role he plays in strengthening the scientific and cultural relations between Hungary and Azerbaijan.
Award Ceremony event was held at the University on September, 13.
Rector Kamal Abdullayev said that he was pleased to welcome the Hungarian Ambassador Viktor Szederkenyi within the University walls.
Academician added that the Ambassador is always a welcome guest for both students and teachers' staff. He noted that it was a great honour for him to be awarded with the highest "Officer`s Cross" Order:-"This Order belongs to all our staff members. This is the result of our joint work, everyone took part in it."
Hungarian language and literature is one of the priority areas of our University. Language University has very interesting and promising programmes and projects with the Hungarian Embassy. I feel sure that our academic staff would widely use these programmes and strong friendly relations would be established between the students of our universities. Today`s meeting will open new possibilities for our cooperation widening".
Viktor Szederkenyi , Ambassador, mentioned that he was honoured to present the highest "Officer`s Cross" Award to the Academician Kamal Abdullayev by the order of the President of Hungary:-"Academician Kamal Abdullayev is the patriot, a wise man, an outstanding scientist and a big friend of Hungary.
Hungarian –Azerbaijani relationships are strategically productive and friendly. They cover all areas, aimed for the benefit of our nations- high-level political relations, fast developing economic cooperation and various cultural programmes.
Hundreds of Azerbaijani students study in Hungary under the fellowship programme. It should be noted that they learn Hungarian at a prestigious university.
Such a level of mutual understanding and support has been made possible by the efforts of people, who had created and protected these relations. These people deserve much attention.
Academician Kamal Abdullayev is one of these people in Azerbaijan. His contribution to the relationship between the two countries is highly appreciated by the Hungarian Government.
From the beginning of K. Abdullayev`s administration activity at the University Azerbaijani- Hungarian partnership has grown significantly.
He contributed much in high-level contacts expansion in many different ways. At the same time support of the Hungarian language learning in Azerbaijan, and Hungarian Language Centre opening at the University of Languages played the important role in business relations development and numerous joint projects implementation.
Then by order of the President of Hungary  János Áder , the Ambassador Viktor Szederkenyi presented the "Officer`s Cross "Order to AUL Rector Kamal Abdullayev.