"Pakistan-Azerbaijan" book presentation was held at AUL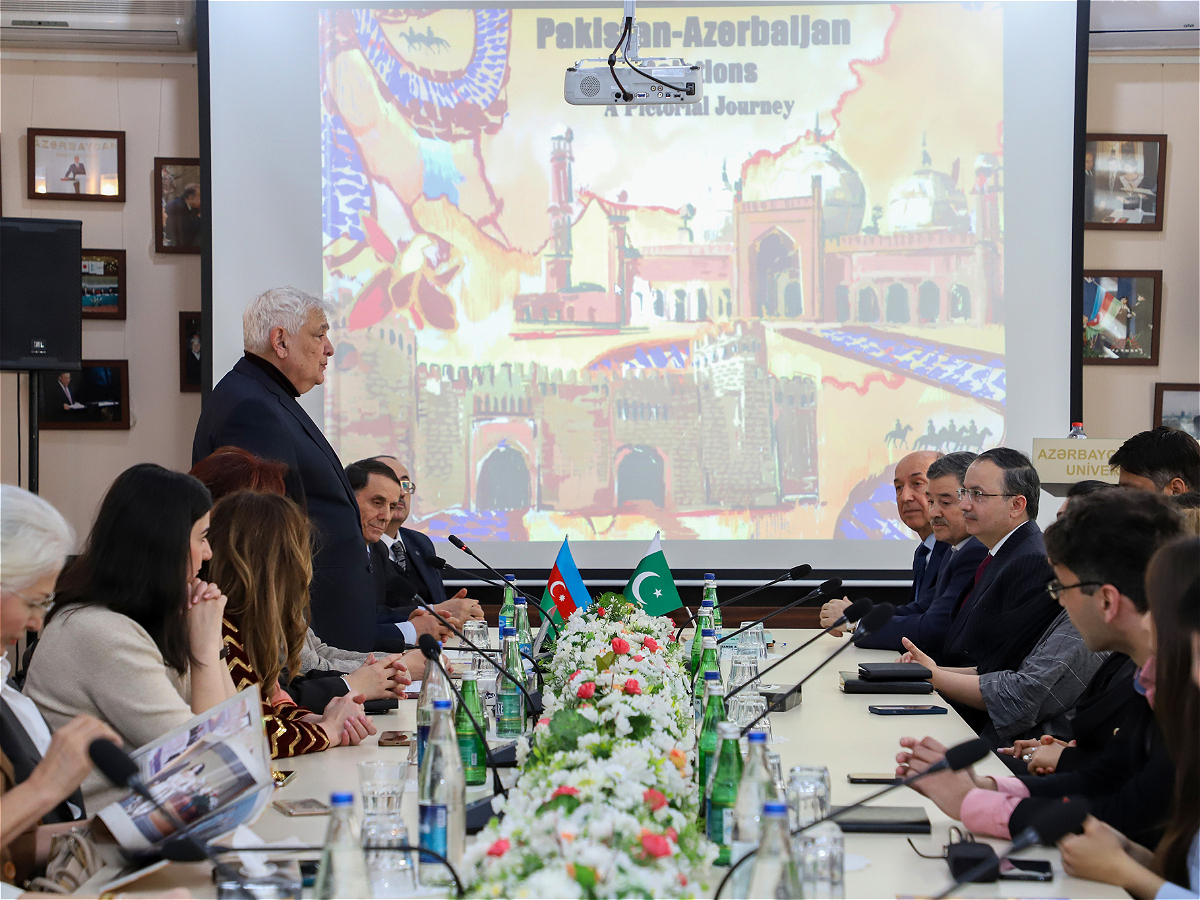 Presentation of the book "Pakistan-Azerbaijan", published at the initiative of the Embassy of Pakistan in Azerbaijan, was held at the Azerbaijan University of Languages on March 9.
AUL Rector, Academician Kamal Abdulla, welcomed the participants of the event and expressed his pleasure to see them at the university. The rector spoke about the centers of language and culture functioning at AUL. Speaking of more than twenty Centers for Languages and Cultures, successfully functioning at the University, Kamal Abdulla said: "Today we are witnessing a historic event. This is presentation of a book on Pakistan-Azerbaijan relations. This presentation is a symbol of the friendship and brotherhood that we have always felt. Our friendship and brotherhood showed itself at the highest level in the victorious war. Along with Azerbaijani flags, Pakistani flags could also be seen in our city. Even now this flag flies in the heart of each of us".
Ambassador Extraordinary and Plenipotentiary of Pakistan to Azerbaijan Bilal Hayyee expressed gratitude for the warm welcome and kind words. It was noted that the book "Pakistan-Azerbaijan" will contribute to the development of relations between the two friendly countries. The book with its photos reflects the history of relations between the countries in diplomatic, political, economic and military fields. The importance of the book was explained by the book's designer Leyla Babazade. It is noted that historical monuments of both Pakistan and Azerbaijan can be seen on the cover of the book. Symbols of both countries are also present on the cover of the book. It is underlined that it will attract attention of readers. Fakhranda Hasanzade, who promotes Pakistani culture, spoke about Pakistani culture and cuisine. It was noted that Pakistan is one of the countries with rich cuisine and ancient culture. Then director of Azerbaijan National Library Karim Tagirov, vice-rector on international communications of AUL Jalya Garibova, deputy director on scientific work of ANAS Philosophy Institute Eynulla Madatli and other speakers shared their views on the book.
The meeting continued with questions from students. Later, a meeting with students was held at the AUL Center for Pakistani Language and Culture.