Chinese New Year at the University of Languages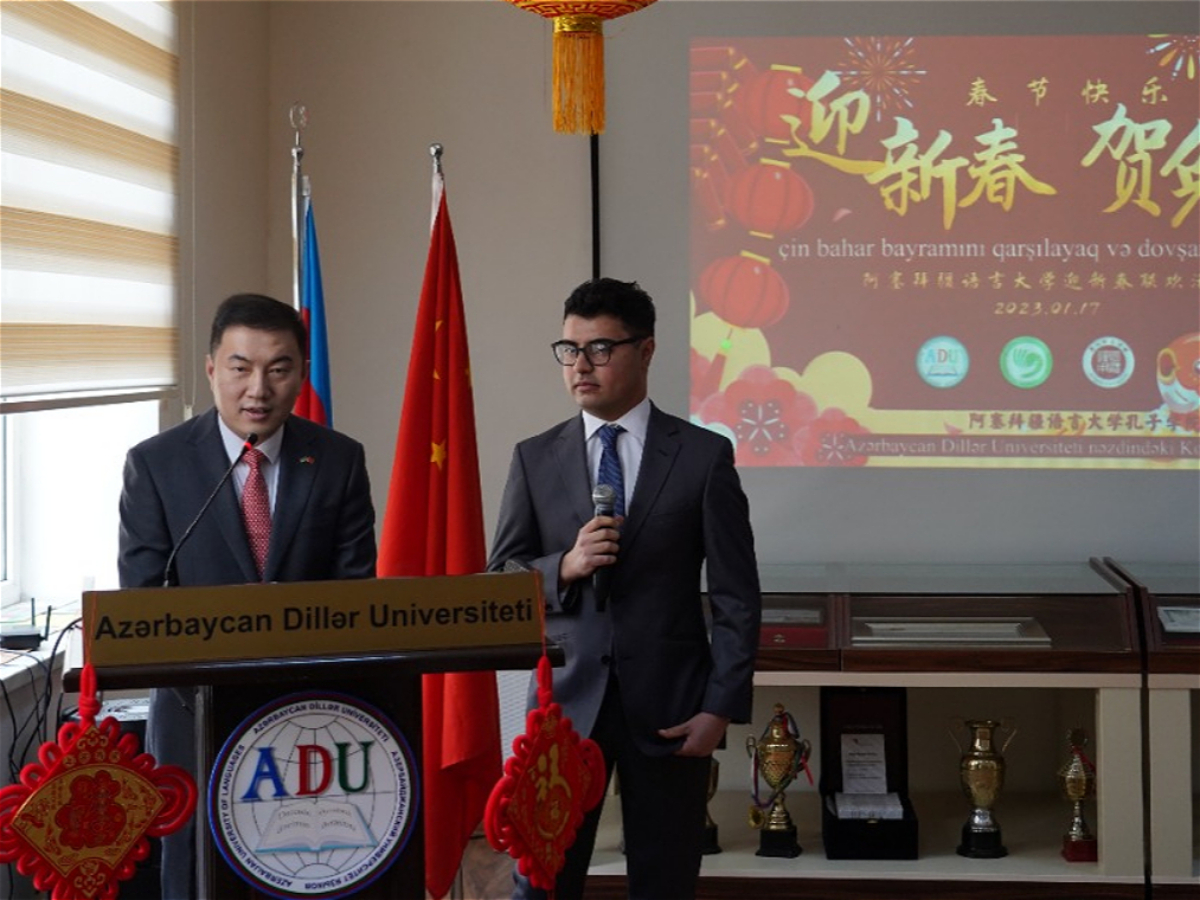 Confucius Institute of the Azerbaijan University of Languages (AUL) held a series of festivities, dedicated to the Chinese New Year. An evening was held at the University of Languages entitled "Azerbaijan Celebrates the Chinese New Year", dedicated to the Chunjie (Spring Festival) - the Chinese New Year, which is the most important holiday in the Chinese lunar-solar calendar. Delivering a speech at the evening, advisor of the Embassy of China in Azerbaijan, Ding Tao congratulated the guests on the Spring Festival, said there has been a progressive development of the Chinese-Azerbaijani friendship ties, strengthening political relations between the two countries and expanding cooperation in the economic, cultural and educational spheres.
AUL Vice-rector for International Relations Jale Garibova congratulated the guests on Chinese Spring Festival, noting the importance of cooperation between Azerbaijan and China in the field of education, teaching Chinese language and culture. AUL Confucius Institute Director Rafig Abbasov noted that the New Year according to lunar calendar is the year of the Rabbit, symbolizing stability and peace, strengthening family ties.
R.Abbasov said that holding of traditional Chinese holidays, which have centuries-old history and rich cultural content, is an important part of the AUL Confucius Institute. R. Abbasov noted the successful development of Chinese studies education and science at the university and stressed that the Confucius Institute of AUL will continue its activities to familiarize the Azerbaijani public with the unique spiritual culture of China and strengthen traditionally friendly relations between the peoples of Azerbaijan and China, historically linked by the Great Silk Road.
Students of Chinese language courses and Confucius Institute AUL teachers performed at the event with a colorful concert program, including performance of traditional Chinese songs and dances, folk tunes on Chinese flute "hulusi", holding cheerful competitions, presentation of art installations, combining elements of Chinese and Azerbaijani cultures. Earlier, the Confucius Institute of AUL together with the Center of Culinary Arts CÀSÀ held a festival of Chinese cooking and culture "Taste of Chinese New Year". At the event, after a demonstration of the traditional dragon dance to the sound of the Chinese gong and drum and a concert of Chinese music, master classes in making Chinese dumplings, the tea ceremony and calligraphy were held.