Student self-governance day «One day caliphate» took place at AUL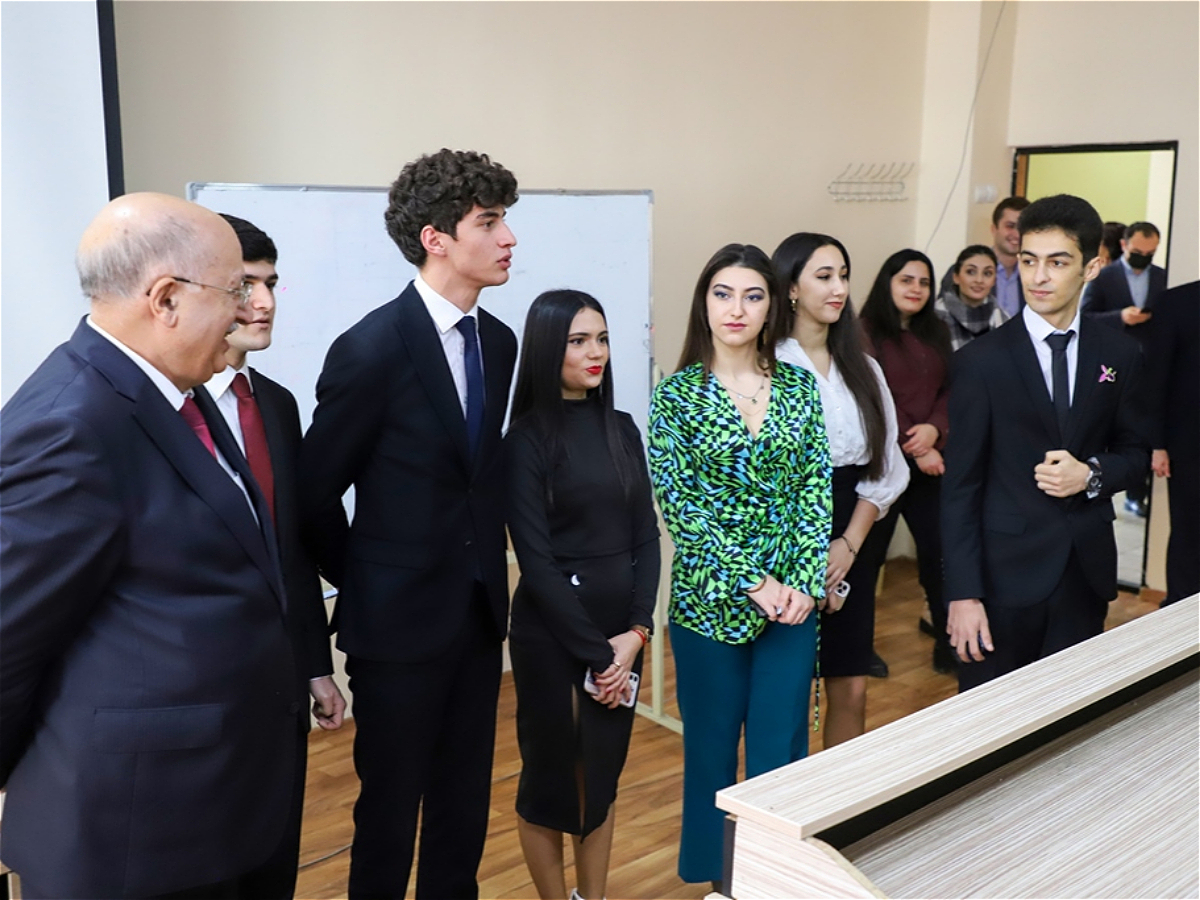 On December 23, students at Azerbaijan University of Languages (AUL) began their duties as part of the «One day caliphate» project. AUL students were given the opportunity to manage 39 positions for one day.
First, the caliphs visited the bust of national leader Heydar Aliyev and laid flowers at the bust. Then they honored the memory of the deceased Shehid alumni of AUL and laid flowers at the memorial plaques. It was stressed that the services of our heroic sons, whose names were written in history with golden letters in the 44-day war, will never be forgotten and will always remain in our hearts. They then honored the memory of the fallen AUL graduates by laying flowers at the plaques.
Caliph Rector Mammad Ahmedli noted that they are trying to justify the trust given to them at the highest level. It was noted that every young man must work for the bright future of his state and nation within his capabilities.
As part of the «One day caliphate» student self-governance day, the Khalif students took part in a number of events.
Among them the students' interest was a Republican scientific-practical conference "Actual problems of teaching foreign languages".
Later the event, devoted to the 130th anniversary of famous Azeri poet Ahmed Javad, was held. The event was attended by professors, lecturers and students.
At an event marking the 30th anniversary of Japan-Azerbaijan relations, the "One day caliphate" project was discussed.
It was noted that students hold 39 leadership positions, including rector, vice rectors and deans of faculties. Those in leadership positions from that day form a "shadow cabinet" of the university, which will continue until the next «One day caliphate».
Decisions of students in leadership positions have full legal force.
Those in leadership positions will receive the day's salary of the official whose authority they serve.
Later, the provost caliph and other caliphs attended an event called "Scandinavian Countries," organized by the Scandinavian Center, and met with a number of university guests.
At the events and meetings, the Caliph students came up with a number of interesting ideas.
It is worth mentioning that this is the fifth time the project has been conducted at AUL.
The basis of the project was laid by Academician Kamal Abdulla, rector of AUL.
One of the main goals of the «One day caliphate» project is to create conditions for students to actively participate in social life, receive education and knowledge, be creative and healthy students and expand their opportunities.
This project will play an important role in forming of such merits as self-management, business acumen, their understanding of professional responsibility.