Academician Kamal Abdulla met with Israeli Ambassador to Azerbaijan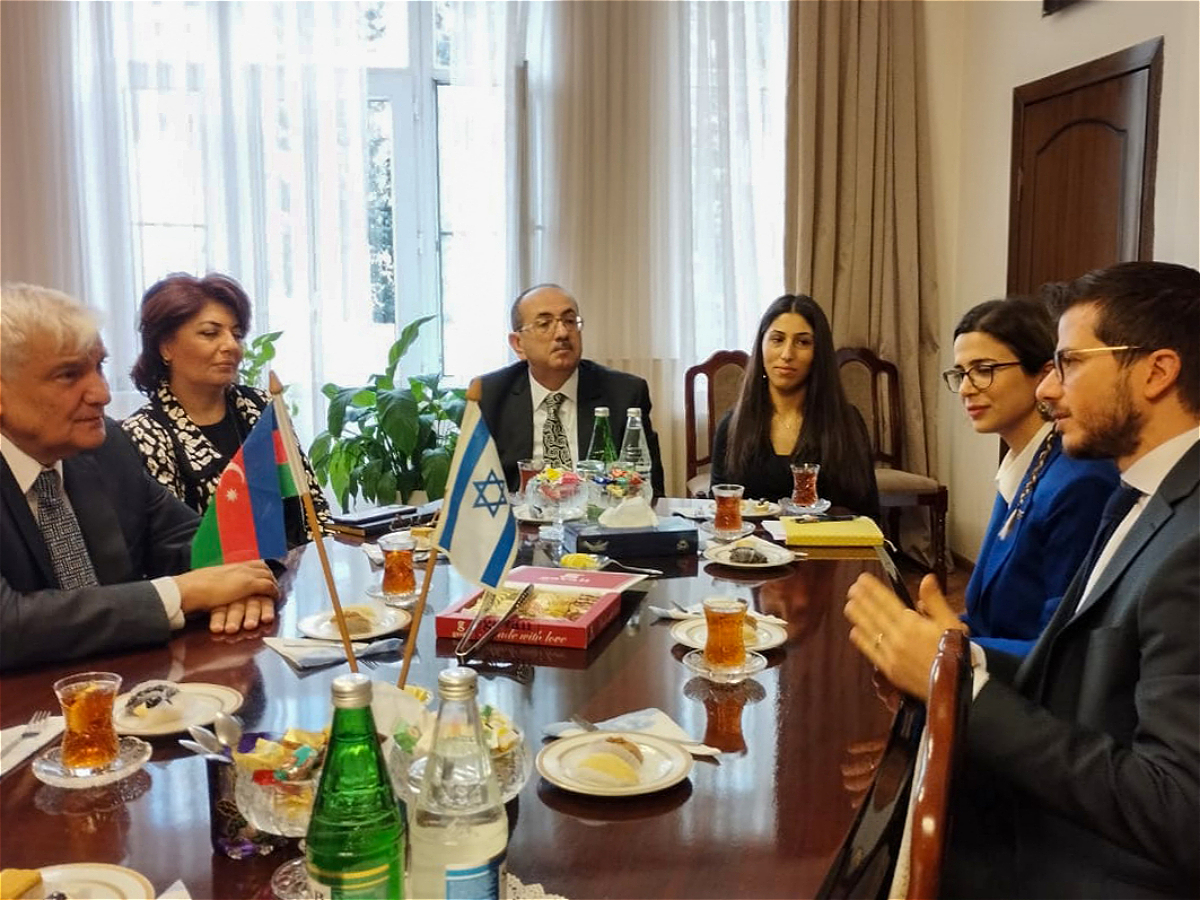 Academician Kamal Abdulla met with Israeli Ambassador to Azerbaijan
Ambassador Extraordinary and Plenipotentiary of Israel to our country George Dik gave a lecture to
students of AUL.
Academic Kamal Abdulla, rector of Azerbaijan University of Languages (AUL), met Ambassador
Extraordinary and Plenipotentiary of Israel to our country George Dik within the framework of
"Ambassador' s Hour" project on October 13.
The Rector said he was pleased to see the diplomat at the university he heads and thanked the
guest for finding time to meet with students.
Kamal Abdulla said that meetings between Ambassadors Extraordinary and Plenipotentiary with
students can be interesting, useful and memorable.
The academician stressed that there is a deep sense of gratitude in the hearts of our people to
Israel as a country that was on the side of truth in Azerbaijan's 44-day just Patriotic War, and
thanked for this moral support :
"Of course, I am happy to report that the attitude toward Azerbaijan in Israel is very good. Israel is
a country that lives by the principles of multiculturalism. We understand each other very well as a
state and a people. In Azerbaijan, Israel is spoken of lovingly.
Our teachers teach students Hebrew with great love. We love to teach our students the history,
culture and activities of prominent personalities of Israel."
Ambassador Extraordinary and Plenipotentiary George Dick highly appreciated the cooperation
between the two countries in various areas, including education and science.
The Ambassador noted that the Azerbaijan University of Languages is the only university where
Hebrew is taught: "I am very glad that our language is taught at a high level at this university. Your
students know Hebrew very well. You can be proud of your teachers and students. Azerbaijan
University of Languages is a bridge of friendship in Azerbaijani-Israeli relations." Hebrew students
will do their work at a high level in the future in relations between the two countries.
Speaking about participation of employees of the Israeli center in the seminar devoted to
"Planning of variative lessons of the auditor: how to increase efficiency of training in various
situations", organized at the Hebrew university of Jerusalem in Israel, the ambassador noted that it
was a great success, both for the university and for the staff of the Center for Israel and Middle
East studies.
After the official meeting, George Dick gave students a lecture on Azerbaijani-Israeli diplomatic
relations.
Speaking about the 30-year anniversary of this relationship, the ambassador touched on issues
such as the boycott by many countries and the difficulties Israel experienced during the recognition
of Azerbaijan's independence.
Referring to the fact that Azerbaijan is an important ally of Israel, the ambassador emphasized that
the Jewish people, who suffered and were exiled in many other countries, feel comfortable and at
home in Azerbaijan.
The ambassador added that in many countries where he had lived, Jews who had historically
suffered and been persecuted had been forced to leave those countries.
For several centuries, Jews have been living steadily and without any discrimination or persecution
in Azerbaijan. Referring to our history, the ambassador emphasized that Fatali Khan of Kuba had
set aside a separate site for the construction of a settlement in order to protect Jews from possible
foreign invasions and to ensure that they lived far away from any persecution. The ambassador
emphasized that even today Jews still live peacefully in Red Sloboda.
At the meeting, Ambassador George Dick noted that relations between Israel and Azerbaijan are of
strategic importance, adding that Azerbaijan is an exceptional partner for Israel. Speaking about
the multicultural values of Israel and Azerbaijan, George Dick noted that both countries have a
tolerant approach to representatives of different religions. He said that Azerbaijan, where people
of different religions live in peace, was a unique example from the standpoint of multiculturalism
traditions, and that Azerbaijan was an example for other Muslim countries. Emphasizing that in
Israel, along with Jews, people of different religions live in peaceful conditions, the Ambassador
said that in this respect it has similar characteristics to Azerbaijan. The ambassador added that this
example of Azerbaijan later became an example for Israel in establishing relations with other
Muslim countries such as Jordan, Saudi Arabia and Egypt.
George Dick said that economic relations between Azerbaijan and Israel were growing, including in
the non-oil sector.
Noting that political relations between Azerbaijan and Israel are at a high level, the diplomat
stressed that relations are also developing between different regions of the countries. The
Ambassador added there are a variety of areas for the development of Azerbaijani-Israeli
cooperation, and Azerbaijan has great opportunities for this, and the countries can share their
experiences in this direction. The meeting ended with questions from students.