Azerbaijan University of Languages hosts meeting with people's poet Ramiz Rovshan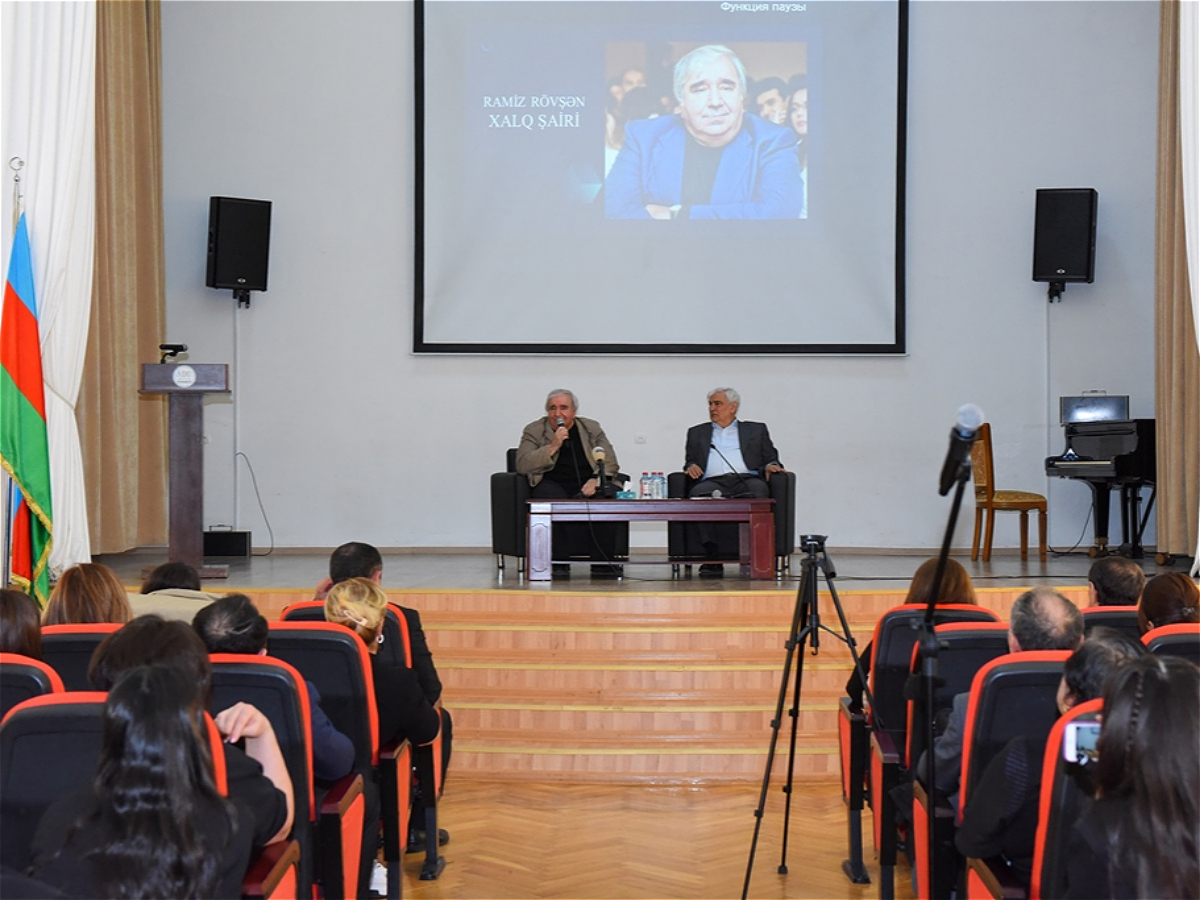 Azerbaijan University of Languages hosts meeting with people's poet Ramiz Rovshan
A meeting with people's poet Ramiz Rovshan was held on April 22 at Azerbaijan University of Languages. Rector of the university, people's writer Kamal Abdulla, welcomed the poet at the university, and talked about his creative work. Kamal Abdulla stressed that Ramiz Rovshan is a person, who has written his name in the history of Azerbaijani culture as a poet, translator, writer, literary critic:
"Ramiz Rovshan is one of my favorite poets. I witness joy and happiness on the faces of all those present here today. This joy, this happiness is a vivid example of love for Ramiz Rovshan.
Ramiz Rovshan's poems contain national motifs from the Dada Gorgud epos, and one can see in his poems a beautiful description of the expression of naive and pure feelings. All these qualities make him a beloved poet. I believe this meeting will be one of those meetings to unite our students around Azerbaijani statehood.
Shahin Khalili, dean of the AUL Philology Department, talked of Ramiz Rovshan's high intellect, humanism and talent as a poet and a person.
It was noted that Ramiz Rovshan is compared to great poets of the world and this is a great success for Azerbaijan.
AUL professor Asker Zeynalov spoke about the importance of the meeting and advised students to take advantage of the meeting.
Ogtay Abbasov, Ph.D. in Pedagogy, spoke about the peculiarities of Ramiz Rovshan's work. Sarvar Gahramanli, a student of the Pedagogical Faculty-1, performed a song "Bağisla", based on the lyrics of the poet, Aysel Alibabali, a student of the Faculty of Philology read poetry "What a burden of the world" and Fidan Mikailova, a student of the Pedagogical Faculty-1 read "I thought I would die without you".
In conclusion, People's Poet Ramiz Rovshan said he was pleased to meet students of Azerbaijan University of Languages. The poet recited his poems, shared his views on poetry and life, and answered students' questions.