Romanian Ambassador to Azerbaijan was a guest of AUL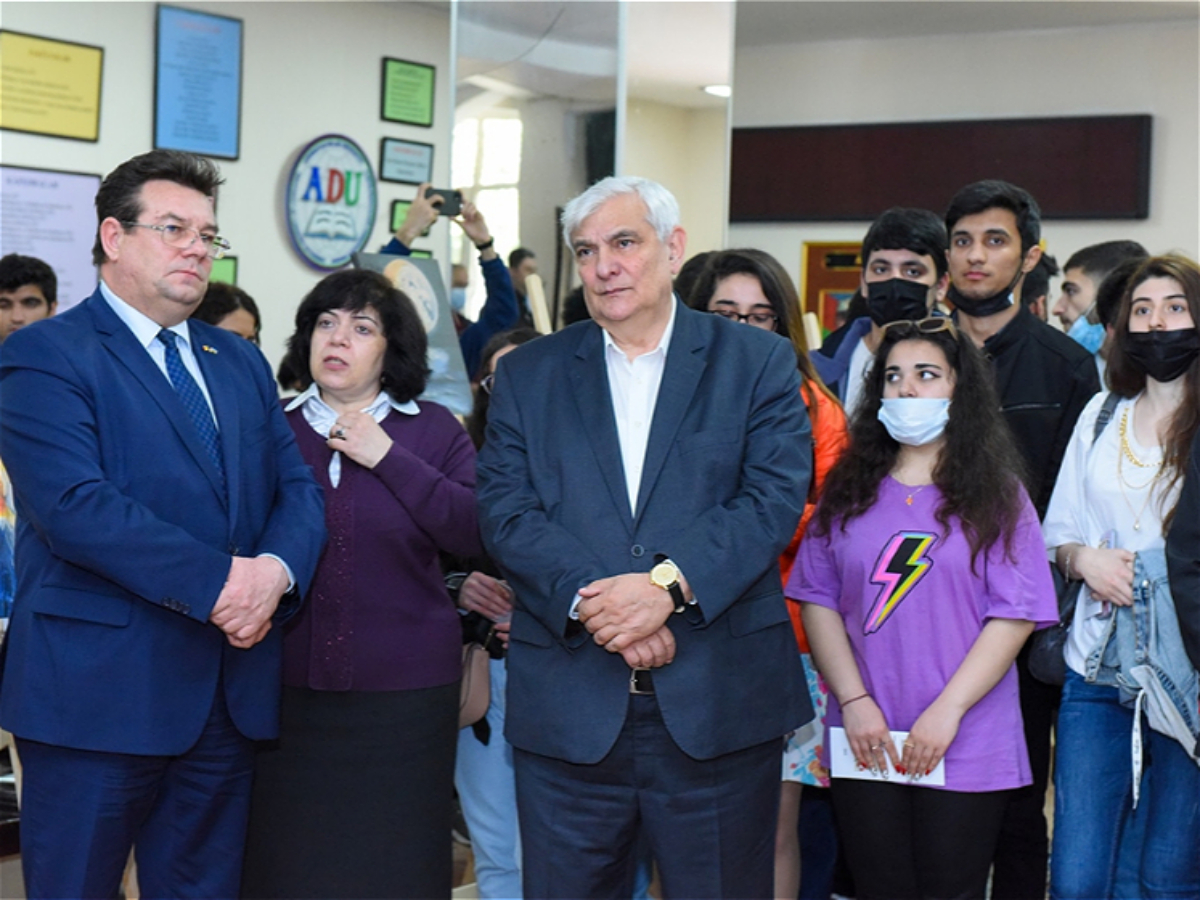 Romanian Ambassador to Azerbaijan was a guest of AUL
Rector of the Azerbaijan University of Languages (AUL), academician Kamal Abdulla met with Romanian Ambassador to Azerbaijan Vasile Soare.
Wishing the Ambassador success in his new post, the rector talked about fruitful cooperation between the Romanian Embassy in our country and the AUL.
Academician Kamal Abdulla said that this cooperation continues successfully in the field of science, culture and education, and the university is interested in further expanding relations in the future: "We believe that with your help, our multifaceted relations with Romanian universities will expand even further, exchanges of students and teachers and joint activities will be further developed. The Romanian Language and Culture Centre has been successfully functioning at our university for several years now, and students have been studying the Romanian language with great interest."
The rector has addressed a proposal to Ambassador Vasile Soare to open the centre of the Azerbaijani language and culture at one of Romanian higher schools, also invited the diplomat to a meeting with students as part of the "Ambassador's hour" project, to deliver a lecture on ancient Turkic languages. Speaking of the languages taught at AUL, Kamal Abdulla also noted that Sanskrit, one of the classical languages, is being taught successfully.
The new Romanian Ambassador to Azerbaijan Vasile Soare thanked for the invitation.
Sharing good impressions of Azerbaijan, the ambassador expressed hope for further expansion of cooperation between the embassy and AUL: "We have great plans for the future. Certainly, development of our relations with Azerbaijan University of Languages on a broader scale is a priority. I am pleased to note that friendly relations between Azerbaijan and Romania have been ongoing for many years and our relations are developing in various directions, including in the field of science, education and culture. Thank you for your attention to the Centre of Romanian Language and Culture at Azerbaijan University of Languages. I am very pleased that the students are studying Romanian language and are interested in history, language and culture of our country. I welcome your proposal to open the Center of Azerbaijani language and culture at one of the prestigious universities of Romania, and important steps will be taken in this direction.
Then the guest was familiarized with centres operated at AUL, took part in the exhibition of pictures by famous Romanian poet Mihai Eminescu on classic poems.
Head of the Centre for Romanian Language and Culture of the AUL Josephine Batto informed the participants of the exhibition, while the rector Kamal Abdulla, ambassador Vasile Soare and chairman of the "Romanian-Azerbaijani Friendship Group" public association Akif Amirov highly appreciated the organization of the exhibition.
At the event, AUL students recited poems by Mihai Eminescu in Azerbaijani and Romanian.