University of Languages hosts presentation of book on 30th anniversary of establishment of diplomatic relations between Azerbaijan and China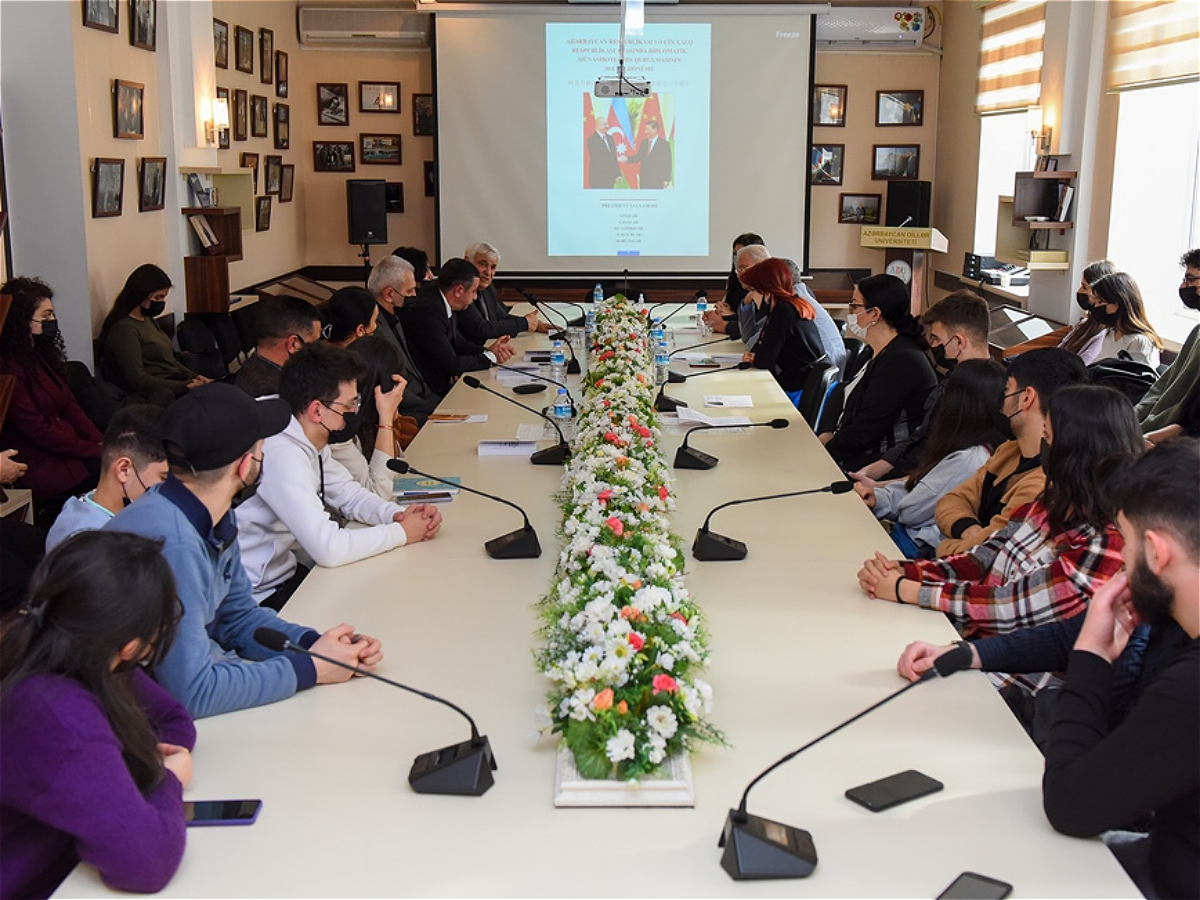 Azerbaijan University of Languages (AUL) hosted the presentation of the book "30 Years of Establishment of Diplomatic Relations between the Republic of Azerbaijan and the People's Republic of China". Presidential Chronicle'', published in Azerbaijani and Chinese languages. The book, which includes speeches, statements, interviews and letters, reflects the activities President Ilham Aliyev undertook in 2003-2021 to develop bilateral political, economic and cultural relations between the Republic of Azerbaijan and the People's Republic of China.
Addressing the presentation ceremony rector of AUL, academician Kamal Abdulla, named the publication of the book a remarkable event and said: "President of Azerbaijan Ilham Aliyev has always fully used all opportunities to bring the realities of the country to the world. I think our other centres must publish books and research works in the direction reflected in this publication".
Dean of the Faculty of Regional Studies and International Relations Ibrahim Kazimbayli talked of main historical stages in development of relations between Azerbaijan and China, historical visit of national leader Heydar Aliyev to China, Great Silk Road leading to multilateral cooperation between two countries. He also noted that publication of the book in Chinese language is of great importance to deliver the works done by President Ilham Aliyev, a worthy successor of the course of nationwide leader Heydar Aliyev, towards expansion of traditional friendly relations between Azerbaijan and China to Chinese public.
Delivering a speech at the presentation, Associate Professor of International Relations Department of AUL Samira Imanova said Azerbaijan has passed a long way of progress under the leadership of President Ilham Aliyev, becoming a dynamically developing country and enjoying respect all over the world. She said as a result of President Ilham Aliyev's successful policy in field of education more than 20 foreign languages are taught at the University, Confucius Institute and language centres are functioning.
Associate Professor of AUL International Relations Department Emil Gasimov said the book once more proves recognition of President Ilham Aliyev as a statesman with bright intellect and successful political future. This publication will play an important role in Azerbaijan-China cooperation, become a valuable information resource for Azerbaijan and the world community, as well as a useful teaching aid for the AUL students studying Chinese.
Senior lecturer of AUL Philosophy and Social Sciences Department Kamala Yusifova, said studying China, a country with ancient history, as well as multilateral Azerbaijani-Chinese relations is an honorary mission of the university faculty.