AUL hosts event dedicated to Azerbaijani Youth Day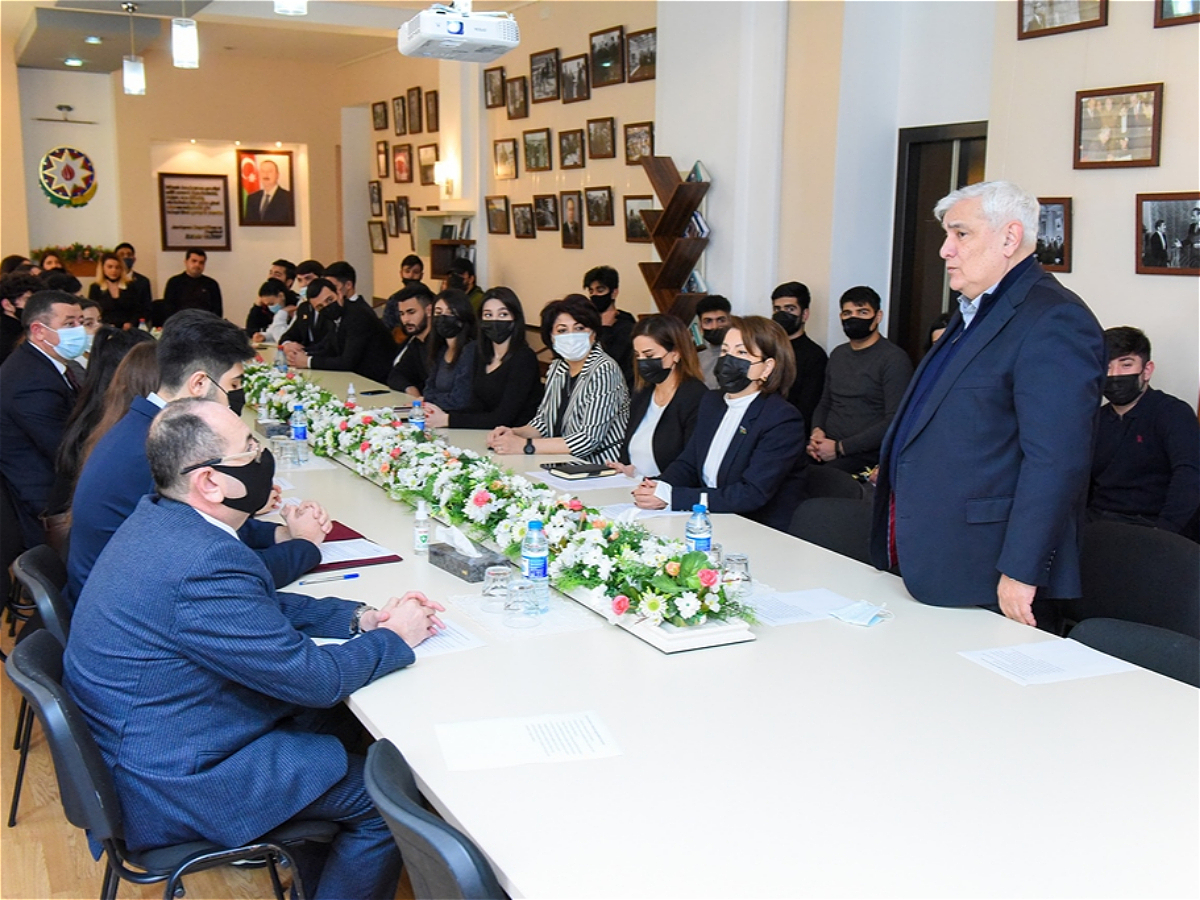 An event was held at Azerbaijan University of Languages (AUL) on the occasion of February 2 - Azerbaijani Youth Day. AUL Rector, Academician Kamal Abdulla congratulated the students on Azerbaijani Youth Day and wished them success in their future activities.
Talking about the bravery of youth during 44-day war both at the front and in the rear, the rector talked of the historic victory of our people closely united around the Supreme Commander-in-Chief Ilham Aliyev:
"In the days of the Great Patriotic War Mr. President took bold steps relying on the youth of the rear and the front. With the support of the youth, we have achieved successes in many areas. President Ilham Aliyev's policy relies on the youth and the people. The youth and the staff of our university were active during the war. During the information war, young lecturers and students of our university have sent more than 5000 letters on Azerbaijani realities to the world leading media, government agencies and universities. Thus, we have proved that our people are peace-loving and can speak the truth.''
The Rector advised the students to mobilize their knowledge and skills for the development of our country, to act in a patriotic spirit, and to spare no effort to honestly and responsibly perform their duties.
The vice-rector on social issues and public relations of AUL, MP Tamam Jafarova informed, that February 2 is announced as a Youth Day in accordance with the decree signed by National Leader Heydar Aliyev on February 2, 1997. She also talked of state youth policy founded by National lLeder Heydar Aliyev: "Youth policy, formed by Great Leader Heydar Aliyev, has now reached its peak. This policy is successfully implemented by President Ilham Aliyev, a worthy successor of Heydar Aliyev school. As a result, today in Azerbaijan there is a youth with a great intellectual level, who love their homeland and sacrifice their lives for it. With their education and patriotism, the Azerbaijani young people play an important role in the development of their country, as well as worthily represent Azerbaijan abroad. When necessary, Azerbaijani youth sacrifice their lives for the sake of their homeland. Today, every young Azerbaijani feels the care of the state. As a result of the successful policy pursued by the President, all segments of the youth population are covered by this care.''
Chairman of AUL Student Youth Organization Elshan Huseynli talked of Youth Day, shared his views on challenges the youth faces.
Student of the Philological Faculty Nazrin Huseynzade made report "The patriotism of Azerbaijani youth once again was once again tested in the 44-day Patriotic war", while Rahman Mammadov, student of the International Relations and Regional Studies Faculty spoke on "Ilham Aliyev's policy: Leader of Azerbaijani youth".
Video recordings of speeches by National Leader Heydar Aliyev and President Ilham Aliyev about youth were also shown.