Chinese New Year was celebrated at AUL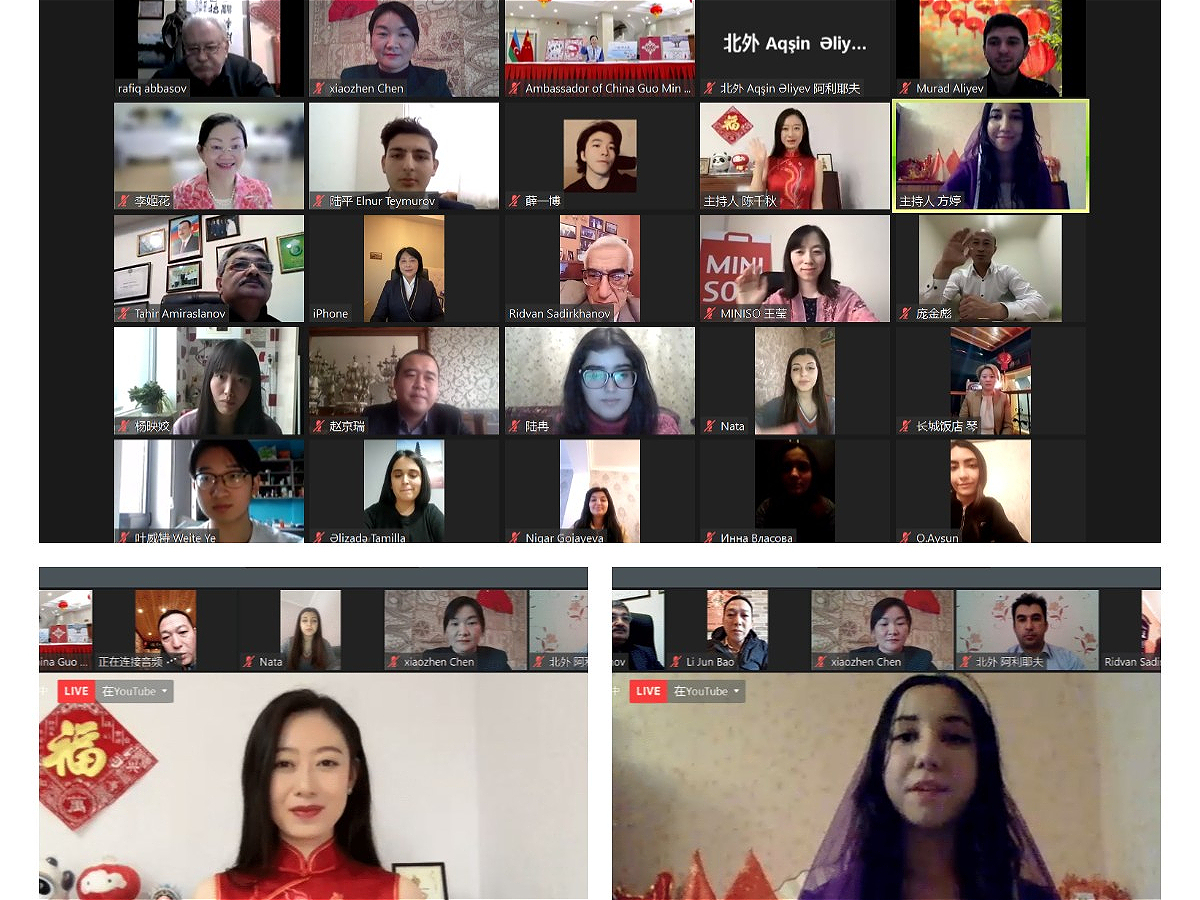 The Confucius Institute of the Azerbaijan University of Languages (AUL) held an online evening dedicated to the Chinese New Year - Spring Festival and the opening of the Winter Olympic Games in Beijing.
Ambassador of the People's Republic of China to Azerbaijan Guo Min congratulated guests on Spring Holiday. She noted the progressive development of friendly Chinese-Azerbaijani relations, strengthening of political relations between the two countries and expansion of cooperation in the economic, cultural and educational spheres. The ambassador also noted that Chinese New Year celebrations coincided with the opening of the Winter Olympic Games in Beijing and participation of Azerbaijani sportsmen would serve strengthening of cooperation between China and Azerbaijan in the field of sport.
Speaking at the event Novruz Mammadov, AUL vice-rector on Science and Innovation, underlining the successful development of traditionally friendly Azerbaijani- Chinese historical relations, stressed the importance of teaching Chinese language and culture at AUL, and thanked Chinese diplomats for their active participation and assistance in holding events dedicated to modern political, economic and cultural life in China.
Addressing the event director of Confucius Institute on the Azerbaijani side Rafig Abbasov noted that in the coming Chinese New Year Azerbaijan and China celebrate the 30th anniversary of establishment of diplomatic relations between the two countries. It is symbolic that the New Year according to the lunar calendar is the year of the Tiger, which represents a time of vigorous progress towards a beautiful future. R. Abbasov, also noting the successful development of Chinese studies education and science in AUYA, underlined that the Confucius Institute of AUL will continue its activities to familiarize the Azerbaijani public with the unique spiritual culture of China and strengthen traditionally friendly relations between the peoples of Azerbaijan and China, historically linked by the Great Silk Road.
Afterwards, Chinese students of AUL, students of Chinese language courses, professors of AUL Confucius Institute, and representatives of Chinese companies in Azerbaijan performed congratulations and a colourful art program. Chinese songs and poems, folk melodies of a Chinese flute "hulusi" and a traditional wind instrument "bau" were sung, and all this reflected the atmosphere of New Year and the romance of winter.
In conclusion, a concert-sport programme dedicated to Azerbaijan-China friendship and Winter Olympic Games in Beijing was performed by special guests of the event - Huang Weiwei, a family of Hezhou college teacher, and volunteers of the Olympic Games. Students performed songs and sports dances on musical themes of Olympic Games of different years, as well as costumed dance "Silver Fireworks" of small nations of Guangxi Zhuang Autonomous Region of China. Friendship between the Azerbaijani and Chinese peoples was dedicated to songs "Friends forever" and a children's cheerleading team performance on the theme of Azerbaijani football.
Videos dedicated to the Winter Olympics and a flash mob of Hezhou College students depicting Olympic rings were also shown.