Ganira Pashayeva meets Academician Kamal Abdulla on the occasion of his 70th birthday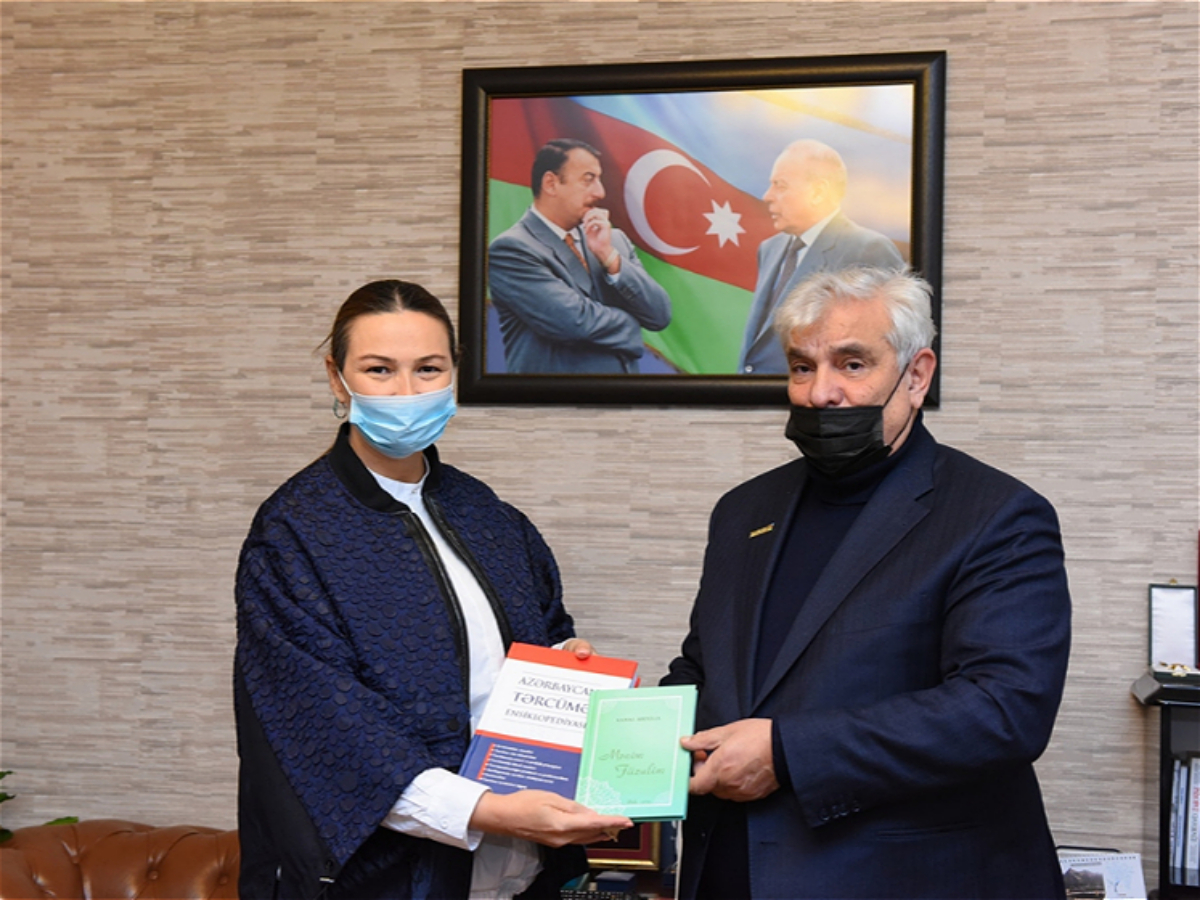 Rector of Azerbaijan University of Languages (AUL), academician, people's writer Kamal Abdulla met with the chairperson of Milli Majlis Committee on Culture Ganira Pashayeva. Stating the 70th birthday of the People's Writer was a significant event, the MP gave him a letter of congratulations and a present from the committee she headed: "You are a favourite writer, scholar and intellectual for all of us. We love to read and study your works, that are published in many countries worldwide. The work you do is highly valued today by our state and nation. As Milli Majlis Culture Committee we are always ready to be by your side. The Azerbaijan University of Languages is implementing many important projects for the development of our education and spirituality. Each of us is ready to support any steps we can take to advance this work."
Kamal Abdullah thanked Ganira Pashayeva, MP, for her kind words and attention: "My colleagues and I know you as a very brave, intelligent person with a heart full of love. I am aware about serious changes, taking place in the work of the Culture Committee. Being an institution of higher education we are also ready to support you in all your activities, and in the future it would be nice to have a live communication between you and students. This will have a great impact on the image of the university and shaping students' personalities."
The sides exchanged views on education, culture, multiculturalism and other important issues. Rector Kamal Abdulla informed Ganira Pashayeva about the preparation of the book "The image of Azerbaijan in English, French and German-language media during years of independence", which is a project of AUL.
This ongoing project covers the period from October 1991 to the present. The book will help to follow the dynamics of the development of independent Azerbaijan. The main purpose of the book is to determine the analytical articles (socio-political, economic, cultural-scientific, art, Nagorno-Karabakh problem) published in English, French, German media during those years and how the image of independent Azerbaijan is reflected in foreign media. This book will be an invaluable tool in educating the public, as well as helping researchers. It is planned to undertake surveys and to continue the project "The image of Azerbaijan in foreign media during years of independence" in Arab, Spanish, Chinese and other countries.
Ganira Pashayeva said she would raise the issue in the Milli Majlis to further expand the scale of the project.
She also stressed the importance of Kamal Abdulla's initiative to establish Dede Gorgud Academy of Turkic-speaking countries and noted that she would facilitate taking necessary steps in this direction.