AUL held a roundtable dedicated to Agil Aliyev's 90th anniversary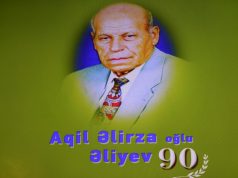 On April 21, a roundtable was held on " Agil Aliyev's contribution in the training of highly qualified medical personnel "dedicated to the 90th anniversary of the Honored Scientist, corresponding member of Azerbaijan National Academy of Sciences, scientist, doctor of economic sciences, Professor Agil Aliyev organized by Departments of Social sciences and Civil defense and basis of medical knowledge at Azerbaijan University of Languages (AUL).
With opening speech, Head of Department of Civil defense and basis of medical knowledge, Associate Professor Sevda Zamanova said that anniversary is organized in accordance with the decree of Azerbaijani President Ilham Aliyev to mark "the 90th anniversary of Agil Aliyev". Speaking on the essence of roundtable S.Zamanova spoke about the life and work of the scientist. Speaking about A. Aliyev's rich scientific works, the importance of his works and high human qualities, S.Zamanova stressed his valuable contribution to the science of Azerbaijan. He was awarded the title of Honored Scientist for his contribution to the preparation of highly qualified medical personnel in 1982 and spoke about the scientific activities, including  his role in the socio-economic development of the reforms, raising people's living standards.
A prominent scientist's research dedicated to the economy of health opened up a new direction in Azerbaijan science, associate professor of Department of Social sciences Shafag Abdullayeva touched upon the activity of the interaction between health and economic development. Sh.Abduallayeva said that he was one of the authors of the scheme of the productive forces in Azerbaijan.
Speaking about A. Aliyev's contributions to the economy of Azerbaijan, associate professor of Department of Social sciences Zarifa Huseynova valuable works of the scientist dedicated to the development of society and the importance of the role of social science in the development of society eliminated gaps in economic science. She spoke about the scientist's "Current problems of agrarian economy ", " the Role of reforms in social development ", "Restoration of Silk Road is the progress of humanity", " Economic problems of independent Azerbaijan" and other works, as well as academic activities.