AUL students visited the Ministry of Foreign Affairs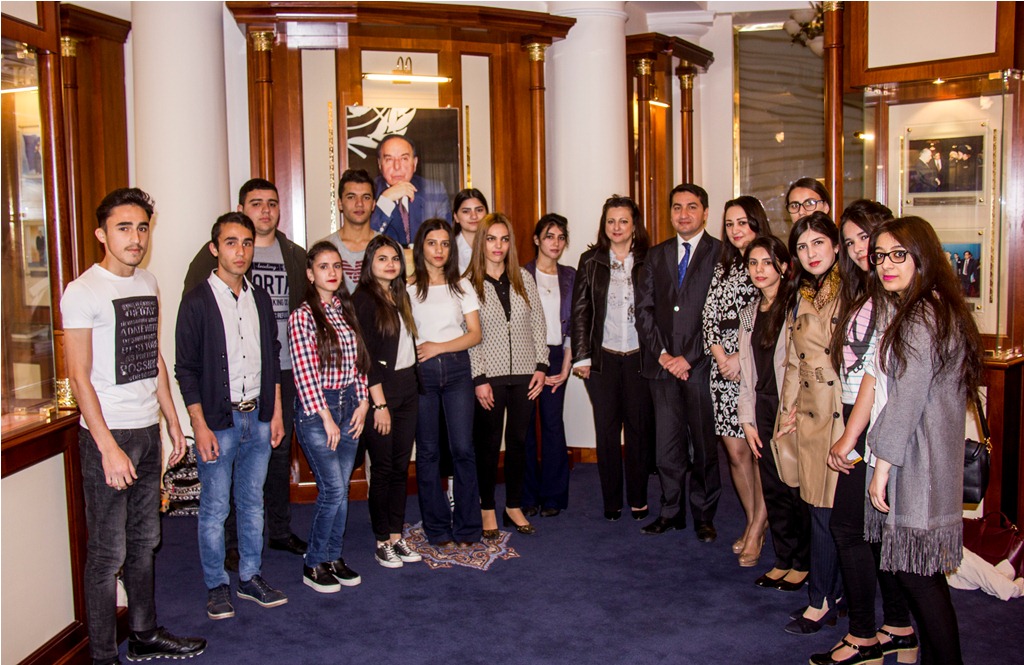 The spokesman of Ministry of Foreign Affairs (MFA) Hikmat Hajiyev met with 1st year students of the School of Philology and Journalism of Azerbaijan University of Languages (AUL). The meeting took place at the Ministry of Foreign Affairs.
Initially, Hikmet Hajiyev introduced the museum of MFA to the students and gave detailed information about the archival materials, documents and photographs that reflect the rich history of Azerbaijani diplomacy. The meeting later continued at a press conference of the ministry. H.Hajiyev widely talked about himself and information policy of the body.
Dean of the School of Philology and Journalism Department Vusala Aghabayli and head of the department of Azerbaijani language and literature Farida Safiyeva expressed gratitude for Hafiz Hajiyev to share his experience. They stressed the importance of this meeting for students which was initiated by Nargiz Javadzadeh, who teaches the course  " PR technology and journalism".
In turn, the press secretary of the Foreign Ministry H.Hajiyev expressed satisfaction of meeting with the students, journalists' effect on the events taking place inside and outside the country, regulates the relationship between journalists and press services, working with online media resources in extreme situations and others. At the same time, he provided information on the digital diplomacy, Armenia-Azerbaijan, the prospect of diplomatic negotiations aimed at a peaceful resolution of Nagorno-Karabakh conflict.
The lecture proceeded and came to an end with lots of questions of students group No140 majoring international journalism.
Note that, H.Hajiyev has been working at the Ministry of Foreign Affairs since 2000, as well as he worked at  the Organizations and Security Problems offices, Azerbaijan's representative to NATO,  the embassies in Kuwait and Egypt. He is the head of the press service of the Foreign Ministry since 2014.