AUL held a presentation of the writer Anar's book translated into English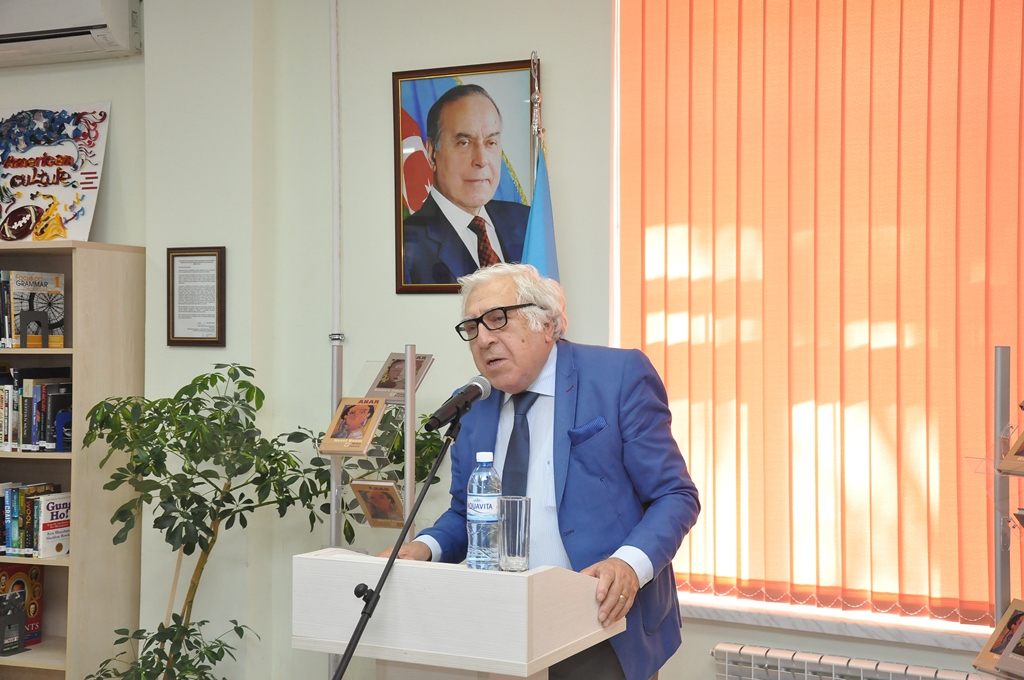 On May 4,  Information Resource Complex hosted  the presentation ceremony of  "Dante anniversary "and" Hotel room " published in two volumes  in the United States on the initiative of "Azerbaijan International" magazine of  Azerbaijan Writers Union (AWU) President, screenwriter, People's Writer Anar at Azerbaijan University of Languages (AUL).
In her opening speech, head of  the Department of  Azerbaijani language and  literature of AUL,  PhD, Associate Professor Farida Safieva  noted that Anar is known as a  writer, publicist and public figure,  playwright  and one of the distinctive representatives of  60s literary environment. Commitment of roots to modernity forms a unity in his works, F.Safieva said.
Acting rector of AUL, Professor Afgan Abdullayev said that the event dedicated to the famous writer is an important event in the life of the university. His rich creations are loved at home and abroad, he said. A.Abdullayev said that the writer holds a special place in modern literature. Speaking about the writer's "Sizsiz" (Without you), book's content, noted that he likes this work more.  A.Abdullayev estimated translation of the writer's book into foreign languages, especially into English as a contribution to promoting of our literature in the world. Professor thanked vice rector Jala Garibova, Sevinj Seyidova and Aida Huseynova, wished successes to the author.
Two-volume edition designer and editor, editor in chief of "Azerbaijan International" magazine Betty Blair informed about the book and highly praised his creativity. Anar wrote beautiful works in an exceptional level and the works are world-class level, he said.
Professors of AUL Fiala and Vafa Aliyeva noted that creative wisdom of the people of Azerbaijan is reflected in the writer's creativity.
At the end Anar thanked AUL leadership for the contribution.  He noted that he is pleased with edition of two volume work published in English in the US, and the importance of recognizing our country in the world. People's Writer thanked contributors of the book.
The meeting was attended by AWU members and university professors, teachers and students, and ended with discussions.