Italian Deputy Minister of Culture visited AUL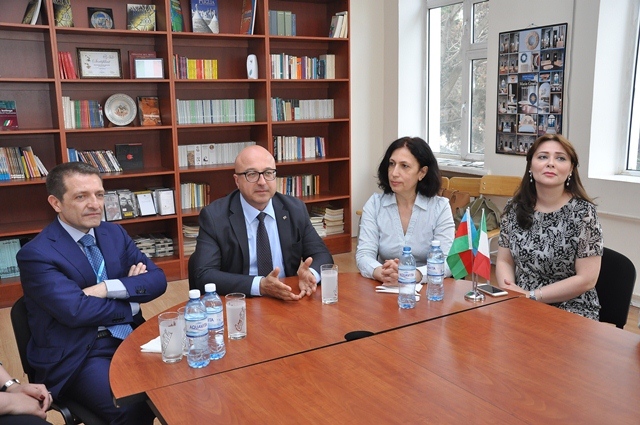 On May 5, Deputy Minister of Culture of Italy Antimo Chezaro on the official visit to Azerbaijan  met with students majoring in Italian language within the Fourth World Forum Intercultural Dialogue at Azerbaijan University of Languages (AUL). The meeting was held with the initiative of AUL's vice rector for International Relations, Associate Professor Jala Garibova, and on the organization of the Department of  Translation of French and  Italian languages, J.Garibova expressed her  satisfaction  over his visit  and  introduced him to students.
A.Chezaro visited the university in order to meet with AUL students majoring in Italian language, and noted that Azerbaijan and Italia have an  ancient history, rich culture and stressed that the two countries, the relations between the two countries develop in the economic, socio-political, cultural and educational field. A.Chezaro spoke about the functionality and influence of culture, concepts introducing the country to the world and usage of its cultural riches as a strategic resource.
The meeting ended with answering the students' questions.
Note that the Extraordinary and Plenipotentiary Ambassador of Italy to Azerbaijan Giampaolo Cutillo also attended the meeting.