AUL held the interactive conference dedicated to the national leader Heydar Aliyev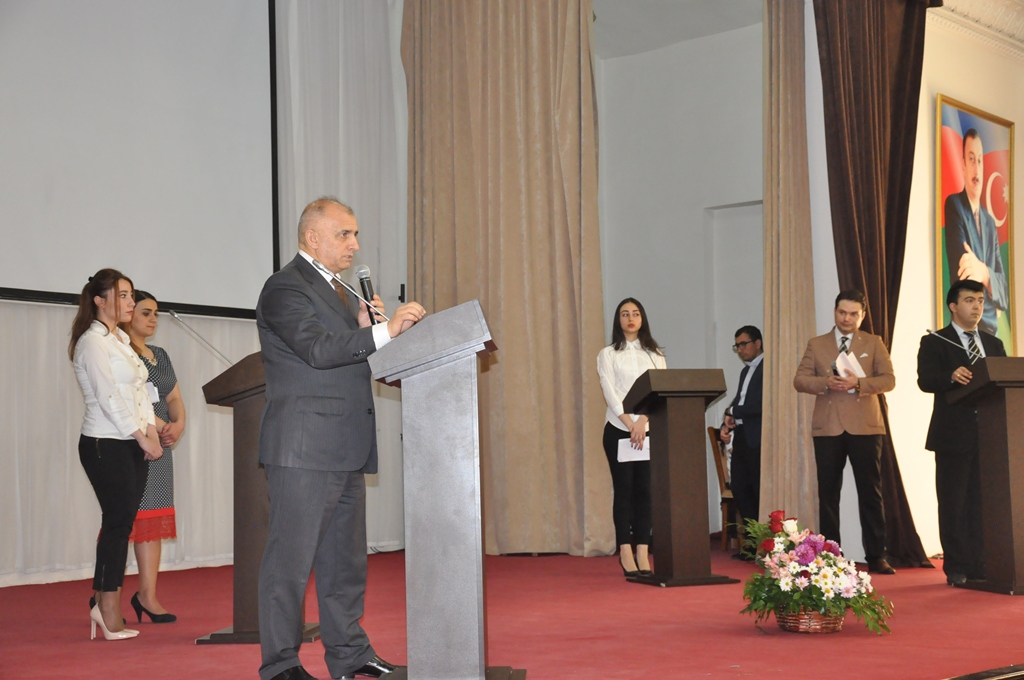 On May 10, an interactive conference dedicated to national leader Heydar Aliyev's 94th  anniversary was held on the initiative of  Dean of the School of Regional studies and International Relations, Associate Professor Samir Hamidov at Azerbaijan University of Languages (AUL).
In his opening speech Associate Professor Samir Hamidov welcomed the guests and thanked them for their participation at the conference. Modern Azerbaijan state is our biggest value, S.Hamidov said and noted that this value has been favored by our national leader Heydar Aliyev .
After, the documentary on "Development dynamics of the events of a 10-year interval in Azerbaijan and in  the world"  was featured.
Then, lectures were delivered on "The more difficult achieving of independence, it is even harder difficult maintenance, permanent, eternal...", "Azerbaijani independence is irreversible, eternal and permanent", " The people of high culture always go forward, always live, always evolve! "and " Freedom and independence - must become destiny of every man ".
At the end, the acting rector of AUL, Professor Afgan Abdullayev welcomed the conference participants noted that there is always need to such kind of events. A.Abdullayev: "There are fewer individual personalities that have been recognized by the world. Heydar Aliyev is that those persons, without exception, the leaders of the world accepted him "he said. He noted that the great leader has always been distinguished with his vision, intellect, experience, foresight. A.Abdullayev expressed confidence that the conference will reinforce students' knowledge about the national leader.
Then the participants' questions were answered.