AUL's meeting with secondary school students within the project "I knew"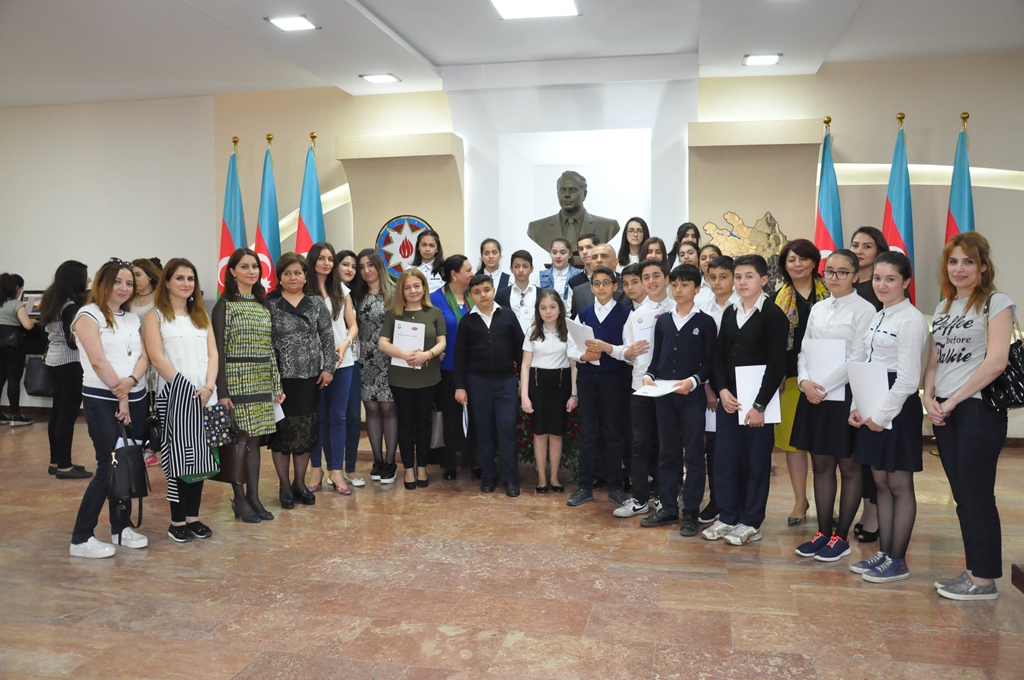 On May 10,  on the  initiative of  associate professor   Vahid Arabov and senior lecturer Rana  Aliyeva  of the Department of  English stylistics of Azerbaijan University of Languages the next meeting dedicated to the national leader Heydar Aliyev's 94th anniversary was held   in the framework  of  the project "I knew". It is already 3 years that successfully continuing traditional project aimed at deepening relations between Baku secondary schools, and to provide information about the university, and to form initial and more accurate of options for the future on higher education.
The meeting was attended by the staff of the department, teachers and students who represent secondary schools 129 and 220of Nizami district, as well as students of the School of Education currently being in the practice at these schools and heads of internship.
After placing flowers at the bust of national leader Heydar Aliyev in the lobby of the university schoolchildren were acquainted with open-air museum named after  20 January martyr, University's student Ulvi Bunyadzadeh.
The meeting which continued in AUL's Information Resource Center (IRC), head of the Department, Associate Professor Sevinj Zeynalova expressed her satisfaction of seeing them at the university and thanked everyone who contributed the event.
Then the teachers of the Department Azada Khanaliyeva and Safura Isayeva conducted interactive lessons on "Simple Past Tense".
IRC staff Shola Eminbayli  and Nargiz Akhundova informed schoolchildren  about complex structure, working principles and activities as well as ongoing events, the courses.
Pupils of secondary schools No 129 and 220 performed poetry and songs dedicated to the national leader Heydar Aliyev.
Then the students got acquainted with AUL Information Resource Complex, as well as the language and cultural centers.
After getting acquainted with the university the acting rector of AUL, Professor Afgan Abdullayev listened students' impressions and answered their questions. Speaking about the history of the university, A.Abdullayev provided information  about  schools and departments. Nearly 6,500 students study at the university, 22 languages are taught, professor said. A.Abdullayev said that the process of studying is enjoyable, and recommended not to forget that they represent Azerbaijan regardless of being wherever.