MA Section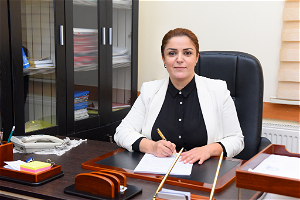 Welcome to the Homepage of the Office of MA Studies!
Our Office trains highly qualified, knowledgeable and skilled teachers of English, German, French and translators and interpreters who can work both in our country and beyond its borders. During their studies our MA students always take part in the events, projects, specialization-oriented roundtables and debates organized both by the university and the state. The training at the University is carried out by specialists, professors and instructors known in our Republic and abroad. Also at our University you will enjoy effective, creative education environment, renewed curriculums, new textbooks, training halls equipped with information technology, scientific-research centres, laboratories as well as mutual respect and transparency in professor-student relations. At the AUL MA classes are held at 17:10-19:55 four times a week (Monday, Tuesday, Wednesday and Thursday) with 2 classes or 1 a day taking into account the MA students' industrial, business and governmental careers. If you want to make confident steps to successful future, choose us without any hesitation, we are waiting for you, dear students.
Information on the Office
The Areas of Specialization at the Office of MA Studies, AUL: Linguistics (English, German, French), Linguistics (General Linguistics), Linguistics (Comparative Linguistics), Azerbaijani Literature, the Azerbaijani Language, the Teaching Methods and Methodology of the Azerbaijani Language and Literature, the Teaching Methods and Methodology of Foreign Language Teaching Methodology (English, German, French), Literary Studies (English Literature, French Literature), Translation (English, German, French, Italian, Korean), Regional Studies (American Studies, Israel and Near East, Great Britain), Country Studies (Great Britain, Indonesian Studies), International Relations and Diplomacy, The History and Theory of International Relations, Teaching Methods and Methodology of Language and Literature (Russian). The Faculty of MA and Doctoral Studies started operating at Azerbaijan University of Languages on the basis of the Decision of the University Scientific Board in accordance with Order #66 (17 June 2015) of the former AUL Rector, member of the Milli Majlis, Professor S.I.Seyidov. However, in accordance with Order #122 dated 14 September 2017 the Office of MA Studies started functioning separately. The MA program consists of a BA program in appropriate areas and proportionally equal to it – the second-level program incorporating completely academic and scientific-research parts. The academic part of this program should include the courses and sections targeted at developing the professional training as well as the foreign language and courses of specialization. At present over 395 MA students are enrolled in the MA program at the AUL. Two of our students are getting education abroad in the frames of the program "Erasmus Mundus". The MA education is accomplished with the defence of an MA dissertation and the graduates who defend the dissertation successfully are given the scientific-specialization degree of Master. The graduates successfully accomplishing any level of higher education get an appropriate document with a state emblem – a diploma.
Since 2014 the part-time education has been stopped at MA level. Classes are taught in the evening shift.
Head of the Office of MA Studies, Doctor of Philosophy in Pedagogics
Rzayeva Firuza Adalat gyzy
Address: Baku, Rashid Behbudov str., 134,
The Main Building (AUL), Room 318
Tel: (+99412) 441-22-78 (extension: 115)
E–mail: [email protected]