AUL hosts event dedicated to 99th anniversary of National leader Heydar Aliyev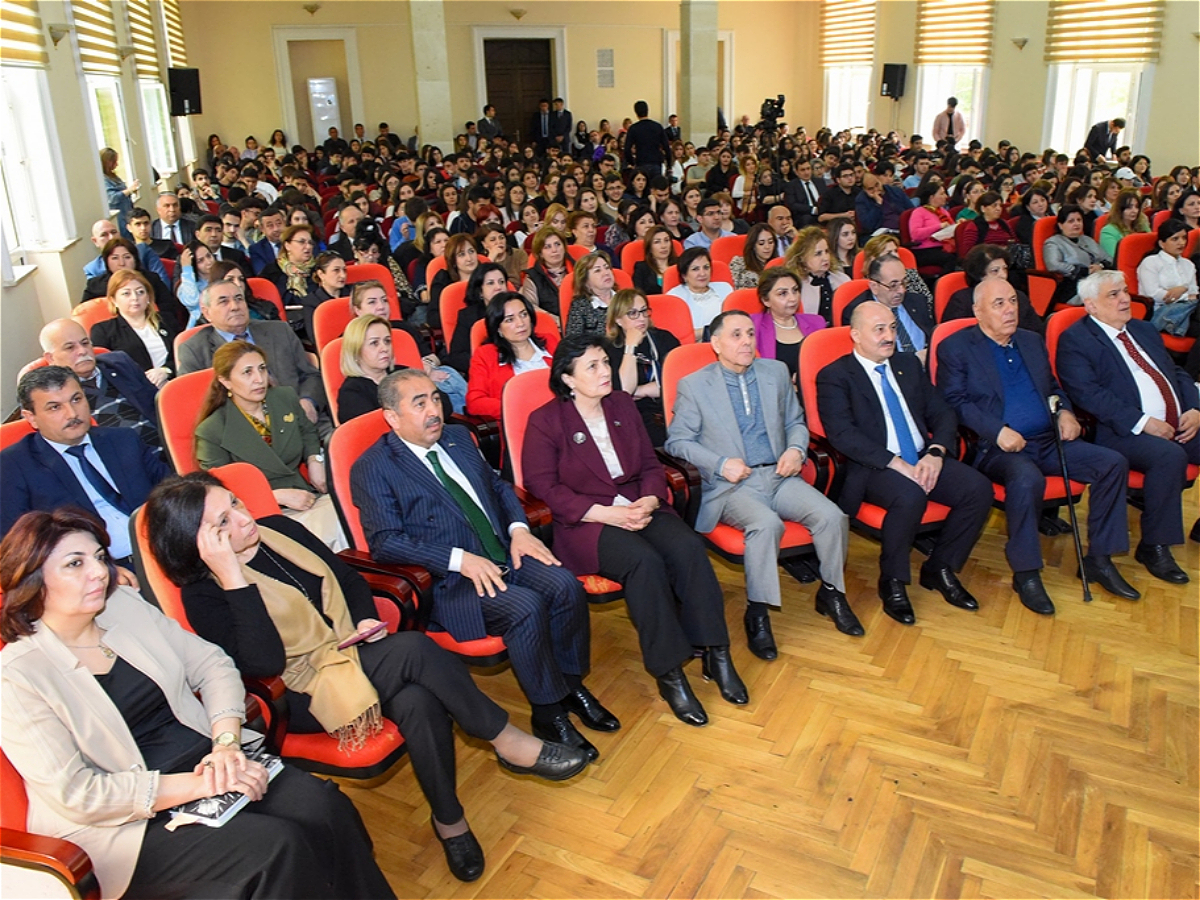 AUL hosts event dedicated to 99th anniversary of National leader Heydar Aliyev
Event was held on May 10 at Azerbaijan University of Languages, dedicated to the 99th anniversary of National leader Heydar Aliyev.
First participants laid flowers at the bust of National leader Heydar Aliyev in the foyer of Azerbaijan University of Languages and paid tribute to his memory.
AUL Rector, academician Kamal Abdulla, welcomed participants of the event and talked of life of the great leader. It was noted that Heydar Aliyev as a historical personality will always live in the hearts of the Azerbaijani people:
"We can say with great pride that the state of Azerbaijan, which was formed on a solid foundation, is experiencing a new, modern period of development. Each of us should stay loyal to the statehood of Heydar Aliyev, support and develop the great ideas of the great leader. In order to write new glorious pages of Azerbaijan's history we should closely unite around our dear President Ilham Aliyev, do our best, fulfill our duties for all-round progress of our country in accordance with high trust of the head of state and work harder".
It was noted that the great leader dedicated his whole life to the Azerbaijani people and its independence.
Heydar Aliyev's unrivalled services have made Azerbaijan a strong and powerful state. "Of course, it is impossible to study fully the genius of Heydar Aliyev and his services to our people. It takes a long time to fully understand the greatness of our great leader, the essence of the important measures taken by him for the benefit of our people. With time, the name of this great man has become a symbol of the Azerbaijani people and his deeds a symbol of bravery.
Academician Kamal Abdulla talked of his meetings with the great leader. The rector said he was happy to have an opportunity to meet Heydar Aliyev: 'The great leader was such a person that everybody wanted to communicate with him and listen to him. He paid special attention to youth and believed in them. I remember once during a meeting with students he turned his face to us, the rectors, and said: "These young people are the pledge of my trust in you!" I have remembered those words for years and will never forget them.
Asif Asgarov, Head of Nasimi District Executive Authority, underlined the importance of the event.
He noted: "People of Azerbaijan are happy to have such a great leader as Heydar Aliyev, a nationwide leader respected and recognized in the world. And today each of us understands that the independent Azerbaijani state is Heydar Aliyev's masterpiece engraved with golden letters in all our history of life and activity. There is no doubt that our nation will always keep its leader in its history and in its heart, and name of Azerbaijan and Heydar Aliyev will sound in the world for centuries.
Professor Vagif Shadlinsky shared his warm memories of the genius personality. It was noted that Azerbaijani nation, continuing political course of great leader, under leadership of President Ilham Aliyev will continue writing new and glorious pages of its history and conquering more high peaks.
Master of AUL Ilaha Hasanzade talked of youth policy of the great leader Heydar Aliyev. She talked of care and attention the great leader pays to youth.
It was mentioned that Heydar Aliyev always used to mobilize all efforts to improve knowledge and skills of youth, do great works to build a healthy future: "One of the biggest merits of nationwide leader Heydar Aliyev is his contribution to our future - youth of Azerbaijan. Youth policy has always had a special place in the great leader's significant statehood activities. The great leader has given big and irreplaceable contribution to formation of the modern Azerbaijani youth as the developed, highly intellectual force.
The event continued with an artistic part performed by students.