AUL Rector Kamal Abdulla met with the Ambassador of Serbia to our country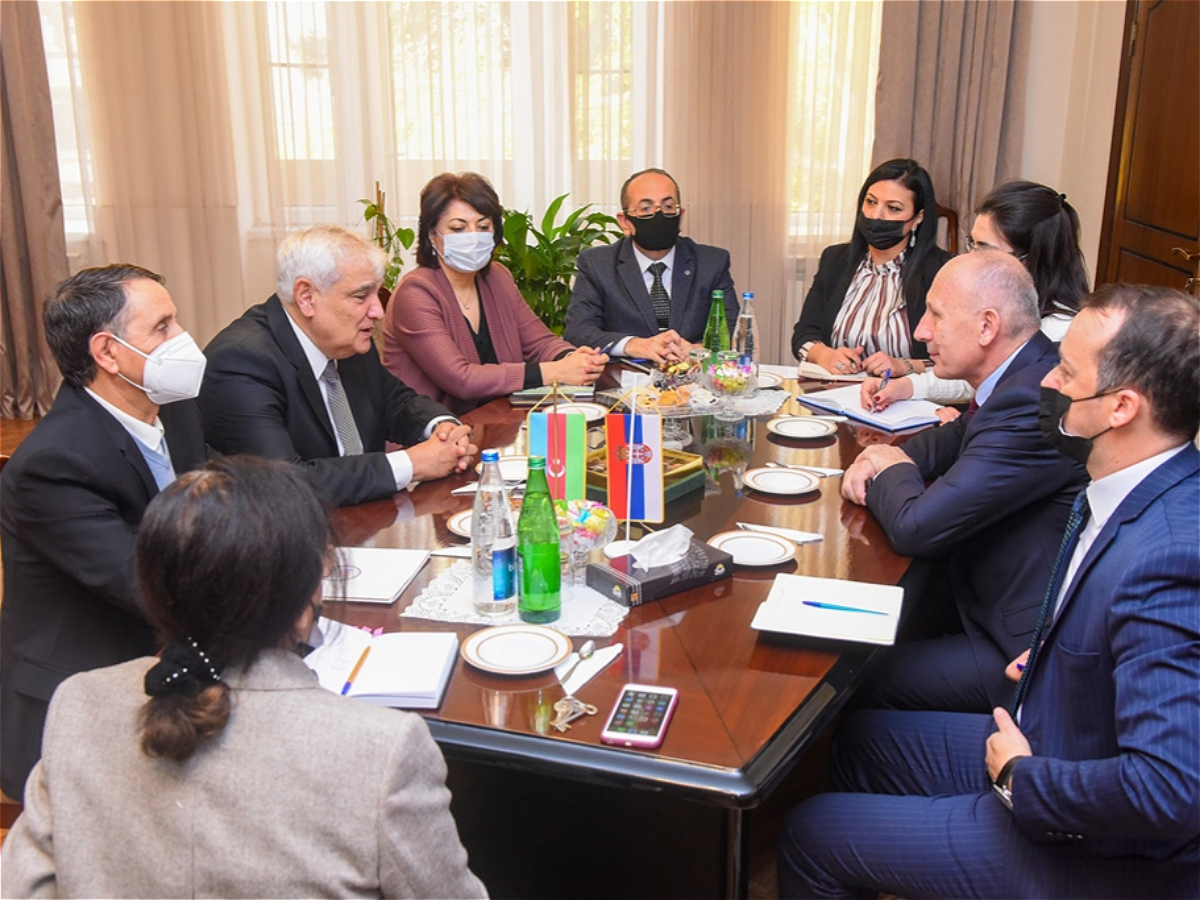 On December 9, Rector of the Azerbaijan University of Languages (AUL), Academician Kamal Abdulla met Ambassador Extraordinary and Plenipotentiary of Serbia to Azerbaijan Dragan Vladisavljevic.
The rector warmly welcomed the ambassador at the institution he heads, and expressed confidence that relations between the two countries in the field of education would further develop. Speaking about the Serbian Language and Culture Centre at AUL, Kamal Abdullah reminded the audience about the visit of Serbian President Aleksandar Vucic and said that the scientific cooperation will continue, while the mutual academic exchange of teachers and students will be beneficial: "Today there are favorable conditions for new projects, opportunities for cooperation and programs that hold great promise. This fact is very important. We are satisfied with the relationship with our Serbian colleagues. We always remember and appreciate our meetings. Thank you for accepting our invitation, we welcome your initiative to establish a useful cooperation.
As emphasized at the meeting, Azerbaijan is a country with multicultural values, where multiculturalism is a state policy. It was noted that specialists trained at universities of both countries take part in international conferences, scientific meetings and events at a high level.
The Ambassador thanked the rector for his kind words. Highly appreciating the support provided in the fields of education and culture, the guest expressed hope that the relations would develop further: "The importance of the work we do and will do together plays an important role in both our academic and friendly relations. The activities of the Center for Serbian Language and Culture is one of the main indicators of this work. Our interests are not only the students who study here, but also those who study in Serbia. Speaking of our bilateral relations, it should be noted that these are brotherly relations".
The Ambassador talked about his visit to the liberated lands. According to him, the visit to Agdam and Shusha was an unforgettable experience and that Karabakh has a fascinating nature. It was underlined that Serbia supports the interests of Azerbaijan and will continue to do so.
Dragan Vladisavljevic then visited the AUL Serbian Language and Culture Centre and met with students.