Greek Ambassador to Azerbaijan visits AUL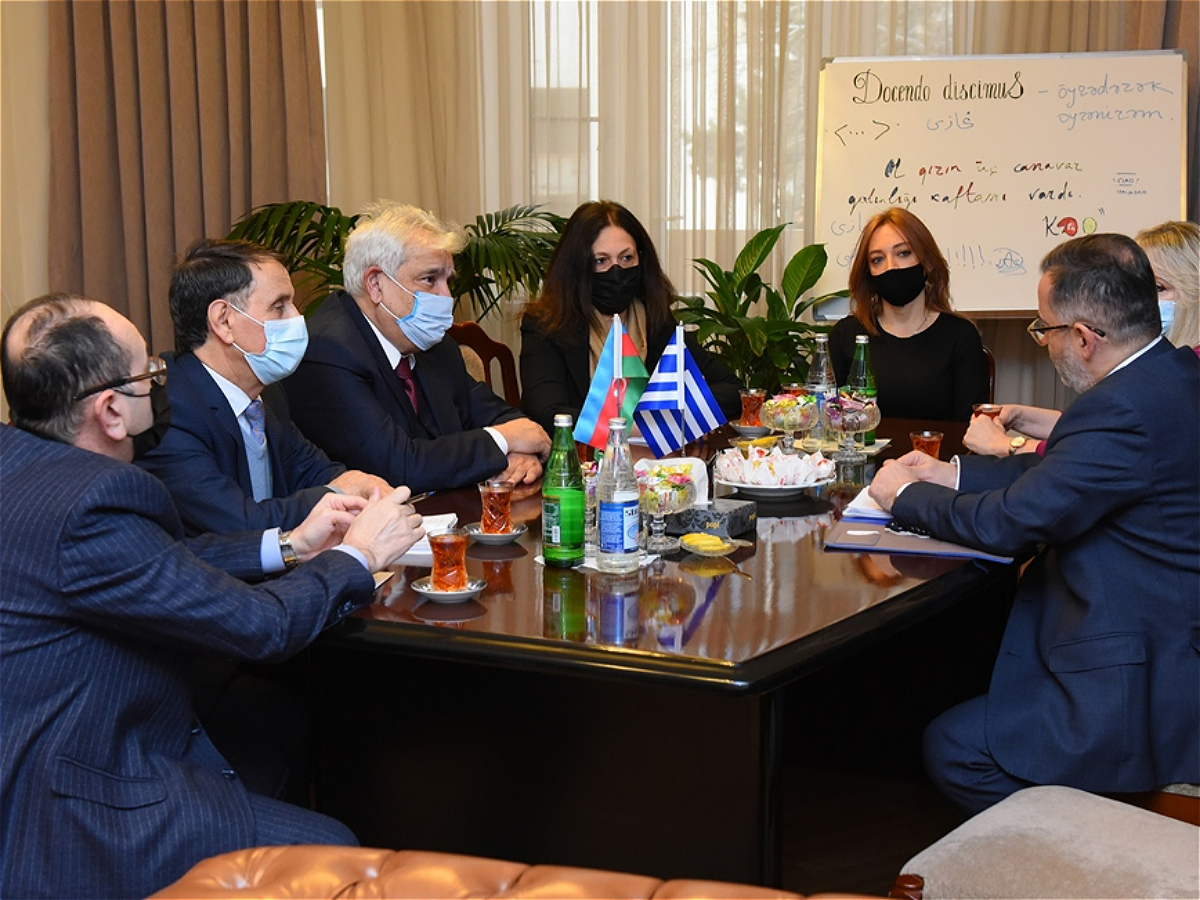 Rector of the Azerbaijan University of Languages ​​(AUL), Academician Kamal Abdulla met with Ambassador Extraordinary and Plenipotentiary of Greece to Azerbaijan Nikolaos Piperigos. After welcoming the guest at the university, the Rector spoke about the various areas of cooperation between the two countries and presented an overview of AUL' s activities:
«Our university has more than 20 language and cultural centers. They are involved in promoting in Azerbaijan the world languages, which ​​are also taught as a specialty. Along with the basic languages ​​of Europe, students can choose the Far and Middle East languages, such as Indonesian, Japanese, Chinese and Korean to major in. Greek language teaching has just started. I believe that our endeavours in this direction will succeed, considering all the cultural and literary ties between our peoples, based on ancient history, and a bond between our mythologies. You are very welcomed at our university. We are pleased to cooperate with the representative of a country with a great and magnificent culture. I hope you will help us to establish and strengthen our relations with Greek universities and centers.»
The Rector told about the "Ambassador's Hour" project practice at AUL and invited the guest to meet with students upon resumption of face-to–face classes. The Ambassador was also offered to organize joint scientific conferences for the joint study of the epos « Kitabi-Dede Gorgud» and Greek myths.
N. Piperigos spoke about existing relations between Greece and Azerbaijan, as well as shared his impressions of our country. Expressing satisfaction with his stay at AUL, the ambassador praised the university's scientific potential: «I feel the warm attitude of Azerbaijanis in all my meetings. We have a mythological connection with the Caucasus, beginning with Prometheus. I am confident that cooperation between our countries at the university level, as well as in other areas, will further develop. This is very important. Only through close ties and mutual cooperation can we achieve our great goals».
Afterwards, AUL Vice-Rector for Scientific Affairs, Professor Novruz Mammadov and Vice-Rector for International Relations, Professor Jale Garibova expressed their views on the exchange of students between Greek and Azerbaijani universities, double diplomas and the prospects of organizing scientific conferences.