Rector of Azerbaijan University of Languages Gabriel Jara, Chargé d'affaires of the Republic of Chile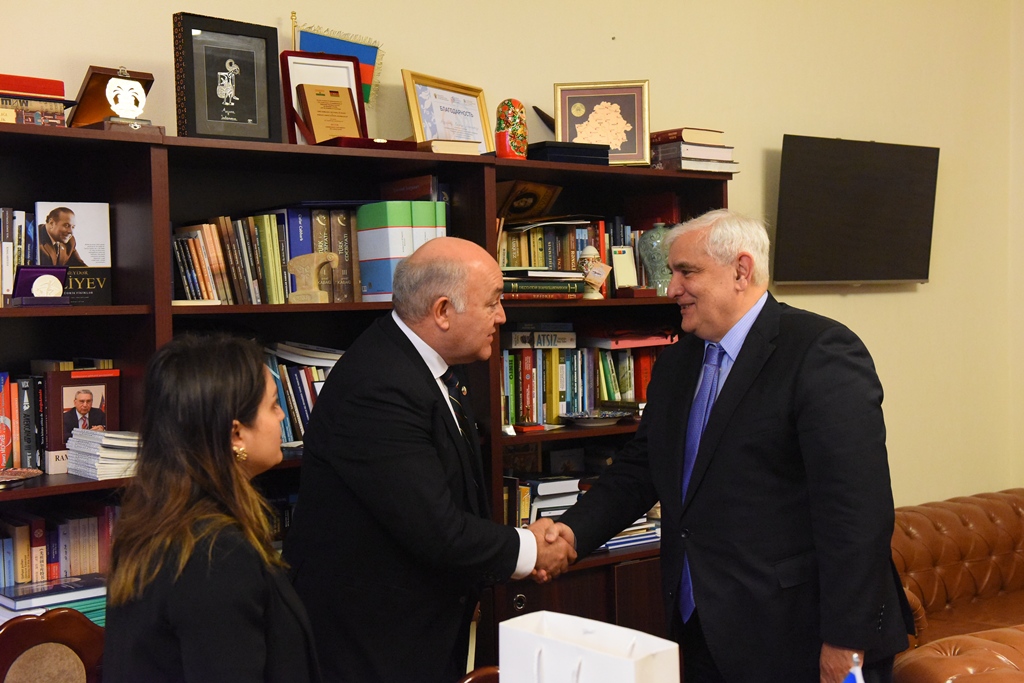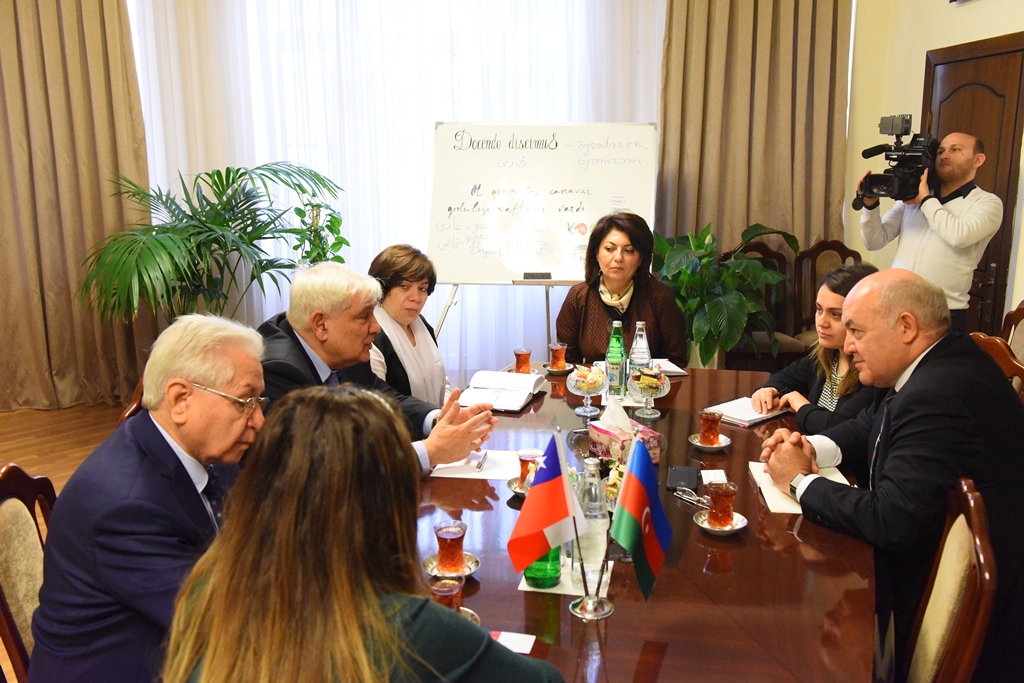 On April 15, 2019, rector of Azerbaijan University of Languages, academician Kamal Abdulla met chargé d'affaires of the Republic of Chile Gabriel Jara in Azerbaijan.
Welcoming the guest, rector Kamal Abdulla wished him successes in his new diplomatic career and said that the foundation of cooperation of Azerbaijan University of Languages with one more Spanish speaking country is significant event.
Speaking about the opening of the Spanish Language Center at the University in 2012, the rector of the University noted that the Centre was a venue for the teachers of the Spanish language and for all the citizens interested in Spanish-speaking countries in Azerbaijan.
Rector Kamal Abdulla stressed that the number of students studying Spanish at Azerbaijan University of Languages is about 200, and the students have got an opportunity to study in Spain on ERASMUS and other programs. He drew the attention of the diplomat that he hoped that the students and teachers would have the chance to go Chile within the framework of certain programs.
Then the rector informed the guest on the "Ambassador's Hour" project implemented into life at the Universty and invited the guest to deliver a lecture to students.
Gabriel Jara expressed his gratitude to rector Kamal Abdulla for taking his time to discuss the issues of common interests. He pointed out that the embassy of Chile started functioning in Azerbaijan two months before: "I am a lucky person to be the first diplomat of Chile Embassy in Azerbaijan and represent my state in your country. I think that it is high time to exchange cultural and educational relations among the universities of both countries. I am a teacher and I am glad to be invited to take part int your "Ambassador's Hour" project".
The Chargé d'affaires said that the distance between the two countries could be further reduced by the education and intercultural exchange, as well as by promoting the propagation of the Spanish language.
During the meeting, the sides exchanged views on the creative activities of the representatives of Chilean literature - Nobel Prize winners on literature Gabriela Mistral and Pablo Neruda and discussed to publish an anthology of their works in future.
At the end of the reception rector of Azerbaijan University of Languages Kamal Abdulla presented his novel "The Unfinished Manuscript" to the guest, which was published in Brazil in the Portuguese language.