AUL commemorated Aziz Aliyev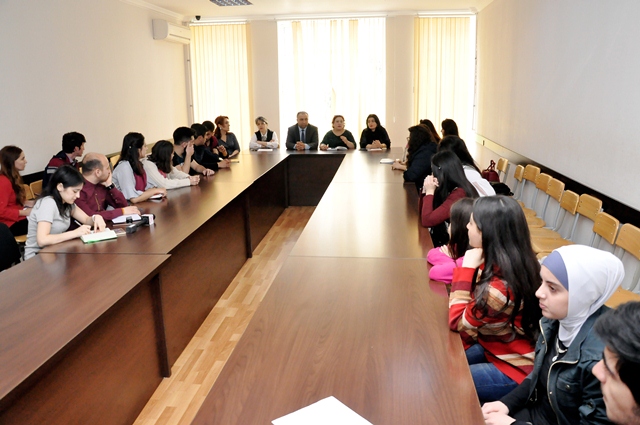 On April 25, School of Regional studies and international relations hosted the roundtable on "Aziz Aliyev as a prominent public figure of Azerbaijan " at Azerbaijan University of Languages (AUL), according to  the Decree of President of the Republic of Azerbaijan on marking the 120-year anniversary of the outstanding statesman and scientist Aziz Aliyev.
Head of Department of Regional studies, Associate Professor Sevdagul Aliyeva spoke on  "Aziz Aliyev's activities in Dagestan ", Head of Department of Social Sciences, Associate Professor Adalat Abdiyeva on "Aziz Aliyev's role  in the development of  Azerbaijan ", associate professors of the above-mentioned department Shalala Baghirova on "Aziz Aliyev's activities  in the South in Azerbaijan" , Gorkhmaz Mustafayev on  "Aziz Aliyev's life and activities ".  The speakers also spoke about A.Aliyev's efficient activities in state management, his contribution in the formation of medical education and health system in the republic, services in fostering friendship relations between Azerbaijan and Dagestan peoples, activities as a statesman and  the repression period. They also spoke about his activities in Dagestan, and noted that he was always loved by Dagestanis,   as an example a monument erected there in order to perpetuate the memory of A. Aliyev.
Noting the importance of holding such events dean of the School of Regional Studies and International relations, Associate Professor Samir Hamidov   stressed the importance of the study of historical figures.