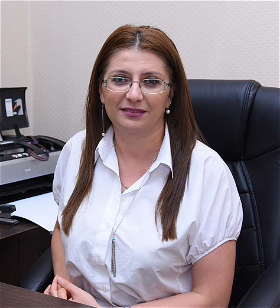 Vice-Rector for Academic Affairs
Sevinj Saday Zeynalova
In November 2019, D. Sc. on Philology, Prof. Sevinj Zeynalova took office as the Vice-Rector for Academic Affairs of the Azerbaijan University of Languages and is involved in all the university's academic programs, educational opportunities, and research and community service. Prior to this, Prof. Sevinj Zeynalova was Vice –Rector for Science and Innovations and worked as the Head of the Department of English Lexicology and Stylistics (2014-2019). She also worked at the Azerbaijan State University of Art and Culture (1999-2010) heading the Department of Foreign Languages.
She has graduated from Azerbaijan Pedagogical Institute of Foreign Languages (with an honors diploma).
Sevinj Zeynalova holds a Doctor of Philosophy from the Azerbaijan National Academy of Sciences with the dissertation topic "The Problem of Portrait in English Classic Literature (on the material of G. Chaucer, W. Shakespeare, J. Galsworthy creative activity)".
In 2014 she completed Doctoral dissertation and hold a Doctor of Sciences on Philology. The dissertation was devoted to the theme of the West in the Azerbaijani Literature (the reflection of the Western character and questions of the effect of Western literary aesthetic values) and issued 2 Monographs:
"The history of Formation and Evolution of the Western theme". Baku-Mutarjim-2011;
"East-West dialogue in the Azerbaijani literature". Baku- Mutarjim-2013.
Her experience at Ilyas Efendiyev Foundation as the Director of the Teaching Centre (2006-2008) and at Azerbaijan Teachers' Institute as a part time ESL Instructor (2011-2013) impacted her RESEARCH INTERESTS:
Teacher Education (Methodology)
Problem-based Learning
Western Literature, Azerbaijani Literature
While at AUL, Professor S. Zeynalova held a number of leadership roles, including:
the Dean of the Philology Faculty
Chairman of the Masters Dissertation Council
Member of Higher Attestation Commission of Humanitarian Science Expert Council
Examination committees
S.Zeynalova was responsible for the overall pedagogical content, including the student course book. She organized various University conferences, meetings, etc.
She has published on a range of subjects in more than 50 peer-reviewed research papers (including h-index), manuals and study books.
In addition to being regularly invited to conferences, seminars she works on guiding strategic planning and policy development, promoting campus-wide academic initiatives and maintaining international standards. Professor S.Zeynalova is studying and supports a dual degree (double diploma) programs preparing mechanism of programs with the partner universities as well as accreditation of so-called programs.
Certificates:
11th International ELT Research Online Conference (Localising Global Issues in ELT), Chanakkale/Turkey, 2020
10th International ELT Research Conference (New Perspectives in Quality Learning and Teaching in ELT ) Antalya/Turkey, 2018
• Sabah Qrupları müəllimləri üçün təşkil olunmuş "Müasir Müəllimin Fərdi İşçi Planının (syllabus) Tərtibi" təlimi, ADA, 2017
• Fall 2016 English Language Teaching Workshop Series at AUL (English Language Programs by U.S. Department of State)
• Pearson LCCI Certifıcate in Teaching English as Foreign Language (TEFL) with grade Distinction, 2015
• AUL Academic Writing and Reading Center Certificate, 2015
• Certificate of Participation (F+U Academy of Languages in Heidelberg), 2014
• British Council Training Courses, ADU, 2013
• Certificate of participation at "Webinars", ADU, 2012
• "Modern Methodology Teacher" Training Course. Open Society Institute. Azerbaijan, 2003-2004
• Completed professional courses: MS Word, MS Excel. 2003
• "Current Trends in ELT Methodology". British Council. 1997
Contacts:
Phone: (+99412) 440-10-64